Emily Brown watched dozens of volleyball matches at Kansas University's Horejsi Center as a fan during the past five years, but playing in her first home matches as a KU freshman Friday night, Brown began carving her place in Jayhawk volleyball lore.
She played a critical role in KU's two home-opening victories as the Jayhawks disposed of Rhode Island, 3-0 (30-23, 30-24, 30-21) before polishing off No. 25 Wisconsin, 3-1 (30-21, 30-26, 29-31, 30-22), on opening night of the Holiday Inn/Jayhawk Classic.
"It's very exciting to be able to play on this court," said Brown, a former standout at Baldwin High. "I've just idolized all the KU players that have been through the program so far, and it's quite an honor just to be out there and play on the same court."
Brown didn't just play, though. She contributed an all-around solid effort that was fitting for the Big 12 Conference Preseason Co-Freshman of the Year. She had four kills and six digs against Rhode Island, but muscled up for 11 kills, 15 digs, three assists, four blocks and an ace against Wisconsin.
"Everyone worked really well together," she said. "We've had some good matches this season, but we finally started coming together today."
KU coach Ray Bechard couldn't agree more. He praised Brown's steady contributions throughout the day, but absolutely raved about his squad's communication, even-keeled mentality and overall domination in all statistical areas -- especially against the nationally-ranked Badgers.
"It's a good win against a quality, quality team," he said. "We outblocked them 15-7, out-dug them 72-52 and hit for a very good efficiency (.320). I was most pleased with ... we didn't get any breaks in Game Three, and we bounced right back in Game Four and really responded well. I think that's the sign of a pretty mature team and a pretty confident team."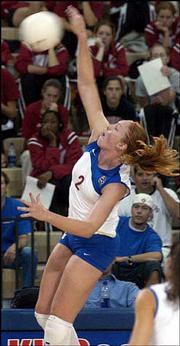 Five Jayhawks finished in double-figure kills against Wisconsin, led by junior Josi Lima's game-high 20. Sophomore Jana Correa added 12, and Ashley Michaels and Paula Caten joined Brown with 11 apiece. Sophomore Jamie Mathewson added nine digs in what Bechard called her finest match as a Jayhawk.
Against Rhode Island, Michaels led the way with 11 kills and Lima added nine.
The most eye-catching statistic Friday was KU's blocking. Historically, the Jayhawks (6-0) have been dreadful at blocking, but that wasn't the case Friday. Kansas out-blocked Rhode Island by 3 1/2 and Wisconsin by 8.
"Last year we were one of the last teams in the Big 12 in blocking," Lima said, "so this year we've been working really hard to change that."
Most of the damage was done by Lima, Michaels and junior setter Andi Rozum, who always seemed to come up with a critical combo-block any time Wisconsin threatened to rally.
"We're much more physical than we've ever been," Bechard said, "and we've just been more committed to it in our preseason. That was one of our areas of emphasis.
"It's so refreshing to see instant points. Last year we had to grind it out and grind it out and grind it out. That just wasn't a phase of the game we were very good at, but we work at it. Plus, we've got some good athletes up there."
The Jayhawks play Denver (2-4) at 2 p.m. today for the tournament title. Wisconsin (2-2) and Rhode Island (2-4) meet at noon.
Copyright 2018 The Lawrence Journal-World. All rights reserved. This material may not be published, broadcast, rewritten or redistributed. We strive to uphold our values for every story published.