Wisps of patchy fog rolled in overnight, shrouding many low-lying areas of Lawrence this morning, including the Kansas River bridge going into North Lawrence.
"It is quite thick as you head out this morning, so be careful," Schack said, looking at the image from the 6News TowerCam atop city hall. "We can't hardly make out North Lawrence across the bridge."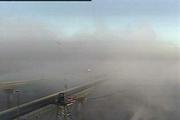 The Lawrence Municipal Airport was reporting one-fourth of a mile to three-quarters of a mile visibility before 8 a.m., Schack said.
However, the fog was expected to burn off as the sun warms up the temperature by 9 a.m., leaving behind sunny skies for the rest of the day.
Long sleeves were needed this morning throughout the area, as the temperature was starting out in the low 50s, she said.
However, today's high will climb to 84, with south winds 5 to 10 mph. Tonight will be clear, with a waning crescent moon illuminated 24 percent.
"Some warm temperatures are ahead," Schack said. "It's quite a warm streak coming up."
The temperature will drop to a low of 57 by early Friday morning, but climb to an unusual high of 88 by Friday afternoon under sunny skies. The average high for this time of year is 82. Winds will be 5 to 15 mph during the day, dropping to 5-10 mph by Friday night.
Saturday will be mostly sunny, with temperatures starting out in the morning at 62 and climbing to 90 under mostly sunny skies. Winds will be 5 to 15 mph.
Warm temperatures are expect to stay around through the middle of next week, with morning lows in the 50s and 60s and highs in the upper 80s, Schack said.
No rain is in the forecast through Wednesday.
Copyright 2018 The Lawrence Journal-World. All rights reserved. This material may not be published, broadcast, rewritten or redistributed. We strive to uphold our values for every story published.