Fallujah, Iraq — U.S. jets pounded insurgent positions in Fallujah for a second straight day Wednesday, raising plumes of smoke but leaving no extensive damage or signs of weakening the Sunni militants who have steadily expanded their control of this city about 30 miles west of Baghdad.
After the attacks, bands of fighters, many wearing loose black pajama-like pants and T-shirts, lounged outside abandoned buildings facing the American lines, seeking to escape the intense sunlight of a day when temperatures topped 114 degrees.
Most hid their faces with Arab head scarves or ski masks. Some quenched their thirst with water from coolers beside them. Most appeared to be in their late teens or early 20s and 30s, but a few looked as old as 50.
Elsewhere in this city of 300,000, fighters patrolled the streets in new American pickups. One resident, 33-year-old Abu Rihab, said they were part of a 16-vehicle fleet commandeered between Jordan and Baghdad.
The Fallujah Brigade, which the Americans organized in May to maintain security after the Marines lifted a three-week siege, has all but disappeared, along with virtually all signs of Iraqi state authority.
Members of the Iraqi national guard, which was supposed to back up the Fallujah Brigade, fled the city after one of their commanders was executed by insurgents for allegedly spying for the Americans. Local police operate under the tacit control of the militants.
The airstrikes, in the eastern and southern parts of this city, targeted a militant "command and control headquarters" that has been coordinating attacks against U.S. and Iraqi forces, the U.S. military said in a statement.
"Initial assessments indicate there are no noncombatant casualties," the U.S. statement added. "Enemy casualty figures cannot be confirmed."
Hospital officials said two people were killed in the attack but did not say whether they were insurgents. Late Tuesday, U.S. jets dropped several bombs, and tank and artillery units fired rounds into Fallujah in retaliation for militant attacks on Marine positions outside the city, said Marine spokesman Lt. Col. T.V. Johnson.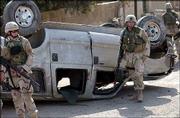 In other developments Wednesday:
In eastern Baghdad, insurgents detonated a roadside bomb that killed one U.S. soldier and wounded two others, pushing the number of American military deaths in Iraq to 1,005. President Bush said "we mourn every loss of life" and declared that the United States was making good progress in the war against terrorism.
Gunmen kidnapped the deputy governor of Anbar province, which includes Fallujah, in the latest assault on officials connected to Iraq's interim government, the Interior Ministry said.
A U.S. military helicopter crashed west of Baghdad, but all four personnel aboard survived. A terse statement from the U.S. Marine base at Camp Fallujah gave no time or other specifics from the incident.
Copyright 2018 The Associated Press. All rights reserved. This material may not be published, broadcast, rewritten or redistributed. We strive to uphold our values for every story published.