More than 100 people turned out Wednesday night for two candlelight vigils -- the first one with anti-war signs and speeches, the second silent and apolitical -- to remember the more than 1,000 U.S. soldiers killed in Iraq.
"You have to attach your actions to important symbolic moments, and this is one of them," said Matt Bova, 43, a Eudora High School English teacher who was one of the more than 80 people demonstrating outside the Douglas County Courthouse at the first vigil of the night.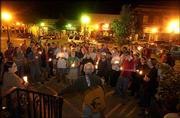 Many people at the 8 p.m. courthouse vigil were part of a group that's been protesting there every weekend since the U.S. invaded Iraq. Demonstrators clutched paper cups with candles inside and held signs, including one that read, "1,000 American; 15,000 Iraqi deaths."
Gary Hinman, an art teacher at Eudora High, hadn't been to any of the previous protests but decided to attend when someone handed him a flier Tuesday night when he was downtown. Hinman, who was stationed in Korea during the Vietnam War, said the rising death toll reminded him of Vietnam.
"This is kind of a milestone. It's a wake-up call for me," he said. "There's no way out of this mess."
At 10 p.m., about 60 people gathered around the base of the Campanile on the Kansas University campus at a silent vigil organized by KU's Concerned, Active and Aware Students.
"I tried to make this vigil as unpolitical as possible," said Jennifer Donnally, a KU junior from Lawrence who planned the event along with Salina junior Kevin McKenzie. "I thought the candlelight vigil is a really moving way of recognizing the sacrifice, and it's not political. It's not in-your-face."
About a dozen anarchists who had been at the previous rally left the KU vigil after a few minutes. Donnally said she had asked the group members not to display signs and had a disagreement with them about whether the vigil also should explicitly commemorate Iraqi civilian deaths.
Hadley Galbraith, a KU freshman from Topeka, sat cross-legged on the ground next to a votive candle.
She said she opposed the war but viewed the vigil as an event for war supporters and critics alike.
"Everyone recognizes there are people that are giving their lives for America, whether we think the purpose is right or not," she said.
Copyright 2018 The Lawrence Journal-World. All rights reserved. This material may not be published, broadcast, rewritten or redistributed. We strive to uphold our values for every story published.