Hillcrest School may get a new portable classroom in a matter of months.
Lawrence school board members on Wednesday toured seven schools. At Hillcrest, 1045 Hilltop Drive, they were taken through a maze of rooms with partitions added to create more classroom space. The school received about 50 more students this year than the district anticipated.
"Essentially, we've turned four classes into eight," said Hillcrest Principal Tammy Becker.
Board members agreed an additional portable building was needed. Tom Bracciano, director of operations and facility planning, told the board he would get bids to them as soon as possible.
At South Junior High School, board members and administrators spent about 10 minutes debating how to deal with major problems at the school. Nothing was decided, but Supt. Randy Weseman said only two good options existed: build a new junior high school or make repairs to South.
Students would have to go someplace else, for up to two years, if the district undertook major remodeling at the school, Weseman said.
The issue could resurface again when the board conducts its annual retreat from 9 a.m. to noon Friday at the district office, 110 McDonald Drive.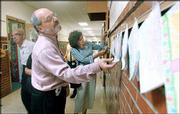 School board members during the tour said they were pleased with $3.4 million worth of improvements made at other schools during the summer.
Cindy Yulich said she remembered the sweltering heat of the gym at Lawrence High School and problems with the air conditioning at Central Junior High School this time last year. That has changed.
"I was very pleased with what we saw at Lawrence High and Central," Yulich said, who noted that teachers saw an added benefit of the air conditioning: better-behaved students.
Copyright 2018 The Lawrence Journal-World. All rights reserved. This material may not be published, broadcast, rewritten or redistributed. We strive to uphold our values for every story published.