Moscow — A wounded Russia threatened Wednesday to strike against terrorists "in any region of the world," offered a $10 million reward for information leading to the killing or capture of Chechnya's top rebel leaders, and criticized the United States for its willingness to have talks with Chechen separatists.
The announcements marked a show of resolve aimed at Russia's stunned citizens, as well as Western countries President Vladimir Putin accuses of hindering its fight against terror, in the wake of three attacks that killed more than 400 people in the past two weeks.
In a nationally televised meeting, Prosecutor-General Vladimir Ustinov also briefed Putin on the investigation into the taking of more than 1,200 hostages in a school last week in the southern town of Beslan.
His was the first official acknowledgment that the number of hostages had been so high; the government initially said about 350 people were seized. A regional official later said the number had been 1,181.
Col.-Gen. Yuri Baluyevsky, chief of the general staff of Russia's armed forces, asserted Russia's right to strike terrorists beyond its borders.
"As for carrying out preventive strikes against terrorist bases ... we will take all measures to liquidate terrorist bases in any region of the world," he told reporters.
Baluyevsky made his comments alongside NATO's supreme allied commander in Europe, Gen. James Jones, after talks on Russia-NATO military cooperation, including anti-terror efforts.
European Union officials reacted cautiously to Baluyevsky's statements, with spokeswoman Emma Udwin saying she could not be sure whether they represented government policy. Udwin said the 25-nation EU was against "extra-judicial killings" in form of pre-emptive strikes.
Russian leaders have previously claimed the right to attack terrorists beyond the country's borders -- tacitly threatening neighboring Georgia that Moscow would pursue Chechen rebels allegedly sheltering on its territory. Two Russian agents were convicted this year for the February car bombing in Qatar that killed a Chechen rebel leader, Zelimkhan Yandarbiyev. Russia denied involvement in the assassination.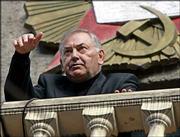 The Bush administration also has a policy of pre-emptive military action against terrorists.
NATO officials declined comment. The alliance released a statement with Russia stressing both sides' "determination to strengthen and intensify common efforts to fight the scourge of terrorism."
Nationalist lawmaker Dmitry Rogozin told Ekho Moskvy radio the warning appeared to be an effort to ease fears of terrorism in Russia after the crashes of two planes after explosions, a Moscow suicide bombing and the school seizure.
Anger over the school attack simmered in North Ossetia, the southern Russian region bordering Chechnya mourning the deaths of hundreds of children, parents and teachers.
Regional President Alexander Dzasokhov promised a furious crowd of 1,000 that the local government would step down within two days and said he would follow suit if he could not fulfill the protesters' demands for an independent inquiry -- the first sign of officials being punished for failing to prevent the attack.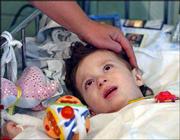 Russia's Federal Security Service offered a reward of $10 million -- its biggest bounty ever -- for information that could help "neutralize" Chechen rebel leaders Shamil Basayev and Aslan Maskhadov, whom officials have accused of masterminding last week's hostage crisis.
The agency said Basayev and Maskhadov have been responsible for "inhuman terrorist acts on the territory of the Russian Federation."
Maskhadov, the former president of Chechnya, had denied any involvement in the school standoff, according to aides. There has been no word from Basayev, a longtime rebel warlord who had claimed involvement in bloody raids and hostage-takings in the past.
Ustinov said 326 hostages were killed and 727 wounded in the school attack, which ended Friday in a wave of explosions and gunfire.
Copyright 2017 The Associated Press. All rights reserved. This material may not be published, broadcast, rewritten or redistributed. We strive to uphold our values for every story published.