Memorial Mass for Marilyn Ann Landon, 60, Lawrence, will be at 4 p.m. today at St. John the Evangelist Church. She will be cremated.
Ms. Landon died Tuesday, Sept. 7, 2004, at her home.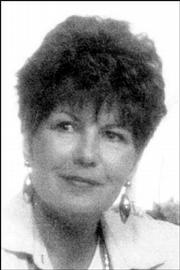 She was born Sept. 10, 1943, in Topeka, the daughter of John Bernard and Alexina Jessie Watt Heim. She had lived in Lawrence for 40 years.
Ms. Landon worked for the state of Kansas and retired in June 2003 after 35 years of service. She was a library assistant at Kansas University. She had formerly worked as a lab technician at Hercules Powder and Ordnance plant in De Soto for five years.
Survivors include her mother, Topeka; two sons, Brian Lee Landon and Bruce Alan Landon, both of North Carolina; a twin sister, Judith Stockman, Topeka; a brother, Michael R. Heim, Lawrence; and two grandchildren.
A rosary will be recited at 3:30 p.m. today at the church.
The family suggests memorials to Oncology Unit of Lawrence Memorial Hospital, sent in care of Lawrence Funeral Chapel.
Copyright 2018 The Lawrence Journal-World. All rights reserved. This material may not be published, broadcast, rewritten or redistributed. We strive to uphold our values for every story published.