DETROIT — Dee Brown will have to wait another day to face the Detroit Tigers.
The Kansas City Royals' game against the Tigers on Wednesday night was postponed by rain. The team's will play a doubleheader today beginning at 11:05 a.m. CDT.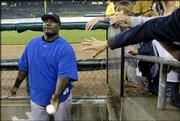 Brown had his first two-homer game Tuesday in the Royals' 6-2 victory over Detroit and has hit six of his 14 career home runs against the Tigers.
"I'm not going to disrespect the team this year," Brown said. "But in the past, their pitching hasn't been that good."
Brown didn't play in the first game of the series, a 7-3 loss Monday, but he was in the lineup Wednesday.
Notes: Kansas City purchased the contract of catcher Jason Phillips from Triple-A Omaha on Wednesday. To make room for him on the 40-man roster, the Royals transferred second baseman Tony Graffanino from the 15- to the 60-day disabled list. ... Detroit moved its home game on Wednesday Sept. 29, from 7:05 p.m. to 1:05 p.m. The following day, the team will travel to St. Petersburg, Fla., to play a doubleheader against the Tampa Bay Devil Rays.
Copyright 2018 The Associated Press. All rights reserved. This material may not be published, broadcast, rewritten or redistributed. We strive to uphold our values for every story published.