St. George's, Grenada — The most powerful hurricane to hit the Caribbean in nearly a decade killed at least 12 people in Grenada, damaged 90 percent of its homes and destroyed a prison that left criminals running loose, officials said Wednesday. American students took precautions against looters.
Hurricane Ivan killed at least three more people in other countries and was expected to inflict more damage as its 140 mph winds churn toward Jamaica, Cuba and possibly the southern United States.
"We are terribly devastated ... It's beyond imagination," Prime Minister Keith Mitchell told his people and the world -- from aboard a British Royal Navy vessel that rushed to the rescue.
Mitchell, whose own home was flattened by Ivan, said 90 percent of homes on the island were damaged and he feared the death toll would rise.
"If you see the country today, it would be a surprise to anyone that we did not have more deaths than it appears at the moment," Mitchell said.
Students at St. George's University, which overlooks the Grenadian capital, hid under mattresses or in bathrooms. "The pipes were whistling, the doors were vibrating, gusts were coming underneath the window," said Sonya Lazarevic, a first-year student from New York.
"It looks like a landslide happened," said another student, Nicole Organ, 21, of Toronto. "There are all these colors coming down the mountainside -- sheets of metal, pieces of shacks, roofs came off in layers."
She said that the danger didn't end with the winds. Organ said she wandered downtown later and saw bands of machete-wielding men looting a hardware store.
Lazarevic said the mostly American student body was arming with knives, sticks and pepper spray for fear that looters would move into areas near the school.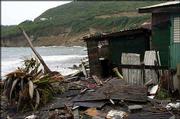 "We don't feel safe," she told The Associated Press by telephone.
Before slamming Grenada Tuesday evening with winds of more than 120 mph, Ivan pummeled Barbados and St. Vincent, damaging hundreds of homes and cutting utilities.
Details on the extent of the death and destruction in Grenada did not surface until Wednesday because the storm cut all communications.
Ivan is expected to reach Jamaica by Friday morning or Saturday and then aim for Cuba, the U.S. National Hurricane Center in Miami said.
"After Jamaica, it's probably going to hit somewhere in the U.S., unfortunately," meteorologist Jennifer Pralgo of the Hurricane Center said Wednesday. "We're hoping it's not Florida again, but it's taking a fairly similar track to Charley at the moment."
Copyright 2018 The Associated Press. All rights reserved. This material may not be published, broadcast, rewritten or redistributed. We strive to uphold our values for every story published.