OK, so it wasn't quite an ace for Free State High School's volleyball team in its season-opening quadrangular Wednesday night at FSHS.
But with a 3-0 sweep against three Sunflower League opponents, Free State coach Nancy Hopkins said she still had to grade her squad's play at an "A" level, even if the Firebirds lost a little energy in their finale.
"I'll take it any night," Hopkins said of Free State's victories over Shawnee Mission North (25-9, 25-18), Leavenworth (25-22, 25-15) and SM South (25-19, 25-20).
"But we don't want them to take big wins for granted. There wasn't as much energy, and it wasn't as if they were tired, just not a real exciting game. So we were trying to get everybody out there and on the bench to get back into it."
Free State -- which barely missed out on its fourth trip to the Class 6A state tournament with a heartbreaking loss last year in the sub-state finals -- didn't have to be prodded at all in the other five games.
The Firebirds were flying around at the quad's start, surprising Hopkins with the way they smoked SM North in the first game.
Senior Jenny Heppert, known for her monster kills, hurt the Indians with her service game.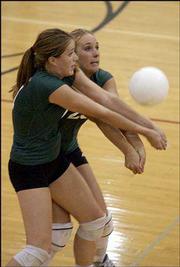 Heppert mixed in a steady dose of jump and set serves to score 15 consecutive points and secure the quick victory.
Free State also showed a high-energy level against Leavenworth, rallying for a 25-22 victory. Raucous Free State fans could easily tell the Firebirds' confidence was continuing to grow by their 10-point win to close the second match against the Pioneers.
Even after several of the fans left during the second intermission, the Firebirds still provided more than a handful of highlights -- most notably the way that the 6-foot Heppert and 5-11 senior Katelin Karlin changed the contests with their height.
"They are a pretty good 1-2 combo up front," Hopkins said of the pair, which combined for 23 kills. "But the talent pool is pretty deep, and I have a lot of options and different combinations.
"We were able to play quite a few different lineups tonight because we came out strong."
Heppert said that a few sluggish signs in the nightcap didn't detract at all from her team's "awesome start."
"It's just a matter of playing some more matches, and us taking in mind that it takes a lot of energy all the way through -- to finish matches," she said. "But I really couldn't dream about a better way to start our season."
Copyright 2018 The Lawrence Journal-World. All rights reserved. This material may not be published, broadcast, rewritten or redistributed. We strive to uphold our values for every story published.