The lack of depth on both city gymnastics squads last year was a burden on Kathy Johnson, who coaches both Lawrence High and Free State.
Though both schools did well -- Free State advanced to the state tournament -- the lack of breathing room to move girls around made every gymnast crucial in all four events, even if a girls wasn't strong in a particular event.
This year will be a little easier on Johnson, despite losing Free State standout Lacey Baxter, the state champ on the beam last year. Nine gymnasts are on the Firebirds' squad in 2004, and six are on Lawrence High's team. In addition, a seventh, Jillian Hay, is a Baldwin freshman who will compete with LHS until the postseason because Baldwin doesn't have a gymnastics squad.
"It helps because three scores count at meets," Johnson said of the added depth to the team scoring, "and it helps to have three scores that are in the upper realm."
Each squad has just one senior each -- Free State's Sindra Schueler and Lawrence's Chelsey Ornburn -- but experience on high school and club teams are plentiful at both schools and could make up for the lack of seniors.
Free State has two juniors -- Sarah Hase and Karen Kroge -- returning after competing at state a year ago, and two more -- Schueler and April Miller -- who will help lead the Firebirds this year.
Lawrence, meanwhile, will have Ornburn and Meredith West as its most experienced high school gymnasts, while Jessica Williams, Kara Kelleson and West's younger sister, Mallory West, looking to step up and provide solid scores for varsity.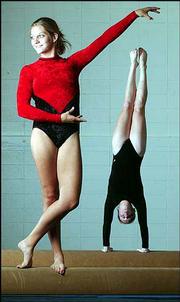 The biggest hurdle this preseason, Johnson said, was making a smooth transition from offseason club gymnastics to high school gymnastics. It's not exactly the same.
"Some of the equipment is a little different from club, and they're adjusting," Johnson said. "They're getting used to it. They'll be fine."
Both Lawrence High and Free State start competition today after four weeks of fine-tuning routines. The two schools have an identical schedule, which starts at 6 tonight with a quad at Shawnee Mission Northwest.
"The first meet is going to be them getting their feet wet and seeing what they need to do different," Johnson said. "I think we've got a lot of potential here."
Copyright 2018 The Lawrence Journal-World. All rights reserved. This material may not be published, broadcast, rewritten or redistributed. We strive to uphold our values for every story published.