Atlanta — Delta Air Lines is axing up to 7,000 jobs, cutting employee wages and shedding its Dallas hub as part of a sweeping turnaround plan aimed at helping the nation's third-largest carrier cope with high fuel costs and competition from low-fare rivals.
But even with those changes, part of a $5 billion cost-saving program, CEO Gerald Grinstein warned on Wednesday Delta would seek bankruptcy court protection if Delta can't slow the pace of pilot retirements by the end of September.
Grinstein told reporters that he fears pilots could jump ship en masse because they are worried about their pensions and keenly aware of UAL Corp.'s threat to terminate the employee retirement plans at its United Airlines unit. Several hundred Delta pilots have retired early in recent months, and more have threatened to do so, he said.
"We have to know what we're dealing with before the end of the month," Grinstein said, after delivering a speech to 300 middle managers that was broadcast on the Internet.
The normal pilot retirement age at Delta is 60. Senior pilots with enough years of service can retire early at age 50, and roughly 2,000 are currently eligible, Grinstein said. If that many retired early, it would hurt Delta's ability to operate the international flights that many of its senior pilots handle, Grinstein said.
Pilots union spokesman Chris Renkel said pilots would be less likely to retire early if Atlanta-based Delta Air Lines Inc. would heed the union's request for the company to promise not to try to take away any employees' accrued benefits.
So far, Renkel said, Delta has refused to guarantee the future availability of lump-sum payments pilots can get if they retire early. "It is unfortunate that our management has chosen a Webcast environment to deliver this ultimatum," Renkel said in a memo to pilots.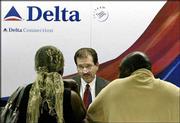 Neither the airline nor the union would say what the maximum lump-sum payment is. Delta pilots who retire can elect to receive 50 percent of their pension benefit in a lump sum and the other 50 percent as an annuity later, regulatory filings show.
Pension benefits paid to Delta pilots and other retirees rose almost 23 percent to $1.1 billion in 2003 from $888 million the year before, regulatory filings show. The increased pace of early pilot retirements would likely push that number even higher this year.
Before the retirement issue escalated, Delta had been warning investors for months that it may have to file for bankruptcy protection if it didn't get deep wage cuts from its pilots.
Management said on July 30 it needed a minimum of $1 billion in concessions from pilots to survive. Pilots have offered up to $705 million.
Copyright 2018 The Associated Press. All rights reserved. This material may not be published, broadcast, rewritten or redistributed. We strive to uphold our values for every story published.