Arlington, Texas — Nearly 40, Kenny Rogers is having one of the best seasons of his career.
Rogers allowed three runs over seven innings, David Dellucci keyed a seven-run second with a three-run double, and the Texas Rangers snapped the Chicago White Sox's four-game winning streak with a 10-3 victory Tuesday night.
Rogers (16-7) now is one win shy of matching the most successful season of his 16-year career -- 17-7 for the Rangers in 1995. He gave up eight hits, struck out two and didn't walk a batter.
"He's a warrior," White Sox manager Ozzie Guillen said. "He gives you the best he's got every day."
The Rangers built a 10-1 lead after five innings, allowing Rogers to be more aggressive.
"When you get that kind of effort from your offense, it benefits you in a lot of ways," said Rogers, who had lost four of his previous six decisions. "They gave me the ability to forget the mistakes I made. One of my main focuses was not to walk guys. I wanted to get our offense back out there to keep swinging the bats."
Alfonso Soriano homered, and Mark Teixeira went 2-for-4 with three RBIs for the Rangers, who have won just two of nine to drop eight games back of Boston in the wild-card race entering Tuesday's games.
The Rangers bounced back from Monday's 7-4 loss to the White Sox when Texas committed a season-high five errors.
Yankees 11, Devil Rays 2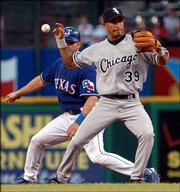 New York -- Alex Rodriguez and Hideki Matsui each hit two-run doubles, and Jon Lieber struck out a season-high nine to lead New York past slumping Tampa Bay. Gary Sheffield had four hits, and Bernie Williams homered for the Yankees, who won their third in a row. Rocco Baldelli hit a two-run homer in the first inning for Tampa Bay, which lost its ninth straight.
Twins 3, Orioles 1
Baltimore -- Mike Cuddyer snapped a tie with a two-run homer in the ninth inning, and Minnesota rallied to beat Baltimore. The Twins pulled even with an eighth-inning run, then took control in the ninth against Jorge Julio (2-4).
Red Sox 7, Athletics 1
Oakland, Calif. -- Johnny Damon hit a leadoff homer in his return to the Red Sox lineup after missing four games because of a jammed right pinkie to start Boston's victory over Oakland. Derek Lowe (14-10) won his fifth straight decision and hasn't lost since a 4-3 defeat on Aug. 6 at Detroit.
Angels 5, Blue Jays 2
Anaheim, Calif. -- Bartolo Colon pitched seven strong innings, Chone Figgins and Garret Anderson homered, and Anaheim beat Toronto. Colon (14-11) limited the Blue Jays to six hits. The Angels' right-hander struck out seven and walked one.
Copyright 2018 The Associated Press. All rights reserved. This material may not be published, broadcast, rewritten or redistributed. We strive to uphold our values for every story published.