LINCOLN, NEB. — The popular belief in these parts is that passes will outnumber runs when the Bill Callahan era begins at Nebraska.
But Callahan, who unveils his West Coast offense against Division I-AA Western Illinois tonight, says it's possible the Cornhuskers sometimes will fall back on their reputation as one of the bastions of power football.
"The running game in college football is of the utmost importance," said Callahan, a college head coach for the first time after being fired by the Oakland Raiders last year. "You win by running the football and being physical."
Callahan is quick to remind that his Raiders led the NFL in rushing in 2000, when he was Oakland's offensive coordinator.
To be sure, the Huskers' offensive repertoire has expanded from the run-left, run-right, run up-the-middle style that has been Nebraska's identity since the late 1970s.
The last time the Huskers passed more than they ran in a game was in a 17-7 loss at Missouri on Oct. 11, 1969 -- a span of 428 games. The Huskers had a school record-tying 42 passes and 38 runs that day.
Whether it's a run or pass, Callahan said, fans can count on aggressive play-calling.
"We don't take what defenses give us. We take what we want," he said.
Center Kurt Mann said it's only fitting to play to the strengths of players who were originally recruited to play in the triple-option offense.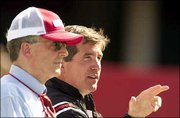 The Huskers, after all, ranked last in the Big 12 and 114th nationally in passing last year at 109 yards a game, and they've averaged more than 150 yards through the air only twice since 1976.
"Once you learn this offense, you realize that we're going to jam it down some people's throats as much as we can," Mann said. "If the run is going well, we're just going to keep running it.
"Maybe it won't be that much different at all. Maybe it will be a lot different."
Cory Ross, who ran for 100 yards in three of the last four games last year, will start at I-back, but Callahan plans to play at least two others there.
Western Illinois coach Don Patterson said he doesn't think his team is in a better position to pull a surprise just because the Huskers are breaking in a new staff and new offense.
The Huskers have won a nation-leading 18 straight openers, all by at least 10 points.
"That's kind of discouraging, and I don't think I'll mention that to our team," Patterson said.
Copyright 2018 The Associated Press. All rights reserved. This material may not be published, broadcast, rewritten or redistributed. We strive to uphold our values for every story published.