Beslan, Russia — Camouflage-clad commandos carried crying babies away from a school where gunmen holding hundreds of hostages freed at least 26 women and children Thursday during a second day of high drama that kept crowds of distraught relatives on edge.
Men and women wept with disappointment or hugged each other with relief as a man read the names of the freed hostages over a loudspeaker. Some of the toddlers released were naked, apparently because of the stifling heat in the school, where the hostage-takers refused to allow authorities to deliver water, food and medicine for the captives.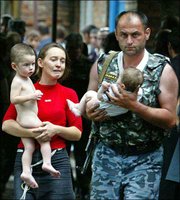 Tensions had risen earlier when the militants fired grenades at two cars near the compound ringed by security forces, and later two grenade blasts interrupted a nervous calm during the night. A policeman was reported injured by one of the explosions early today.
President Vladimir Putin said everything possible would be done to end the "horrible" crisis and save the lives of the children and adults being held at School No. 1 in Beslan, a town in the southern region of North Ossetia.
But it was uncertain how much either side was willing to give to avoid further bloodshed in the siege, the latest incident in a series of violent attacks believed linked to Russia's war in Chechnya. A dozen people were reported killed by the attackers when the school was captured Wednesday, but one official said Thursday that 16 died.
Reports after the standoff began Wednesday said the attackers demanded the release of people jailed after attacks on police posts in June that killed more than 90 people in Ingushetia, a region between North Ossetia and Chechnya. But officials said Thursday that the hostage-takers had not clearly formulated their demands.
Late Thursday, Lev Dzugayev, a North Ossetian official, said his previous statement that 354 hostages were seized Wednesday might have been too low, and many in the anxious crowds said they believed the number was much higher. "Putin: at least 800 people are being held hostage," read a sign held up for television cameras.
Dzugayev said contacts with the militants were suspended at their request early today, Interfax reported, in what was apparently a temporary break.
Relatives, friends and neighbors who crowded outside barricades blocking access to the school gasped when the hostage release was announced by Dzugayev, an aide to the president of North Ossetia.
Copyright 2018 The Associated Press. All rights reserved. This material may not be published, broadcast, rewritten or redistributed. We strive to uphold our values for every story published.