Haskell Indian Nations University's football players did not let words hurt them Saturday against Panhandle State.
It was the sticks and stones -- and four first-half turnovers, too -- that led to the Fightin' Indians' 45-0 shutout loss to a loud, trash-talking group of Aggies at Haskell Stadium.
"Those were killers, and we couldn't recover," Haskell coach Eric Brock said of the giveaways. "We couldn't hold on to the ball. We put the defense in bad situations, and anyone who knows the game of football knows that'll put you at a disadvantage."
The turnovers, three of which were fumbles, all were committed by sophomore quarterback Terrill Denney.
Because of the turnovers, Panhandle State's average starting field position for its eight first-half possessions was its own 48-yard line, while Haskell's average start was its own 27.
The Aggies began scoring five minutes in when sophomore tailback Reshard Dudley scored on a three-yard run.
Panhandle State's second touchdown required a stroke of luck. After Denney was picked off by Jeborric Evans, Dudley fumbled an option pitch off his knee at the 12-yard line. The ball rolled into the end zone and was recovered by a PSU offensive lineman.
Leading 17-0 in the second quarter, Panhandle State slammed the door on HINU. Dudley, who had 99 yards off seven carries the first half, ripped off a 41-yard touchdown dash six minutes before intermission. PSU added 21 more points in the second half to complete the drubbing.
At 4-6, Haskell cannot finish the season with a winning record.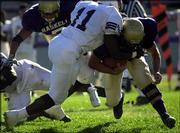 "I still think we've improved greatly," junior wide receiver Cody Wilson said. "This is the best Haskell team I've played on since I've been here."
The Indians have one game remaining -- in two weeks at home against Langston.
"I hope the guys will take a breath of fresh air next weekend, watch some other people play ball and maybe miss it a little bit," Brock said. "It's a big difference between 4-7 and 5-6."
Copyright 2018 The Lawrence Journal-World. All rights reserved. This material may not be published, broadcast, rewritten or redistributed. We strive to uphold our values for every story published.