Ames, Iowa — It was desperation in its most desperate form.
With Kansas University's quarterbacks showing minimal effectiveness throwing the football Saturday, the most important make-or-break pass of the game -- and maybe the season -- was hurled by none other than running back Clark Green with 6:56 left in the contest.
It was intercepted.
So goes the tale of one of the most demoralizing losses in the Mark Mangino era, a 13-7 setback to lowly Iowa State in half-empty Jack Trice Stadium.
"Every loss is tough," KU linebacker Kevin Kane said, "but this one definitely hurts a little more."
So much was lost with Saturday's deflating defeat. Among other things, the Jayhawks now must win out to become bowl-eligible this season, and it can be argued that all three of KU's remaining opponents pack more punch than Iowa State does.
The Cyclones (4-4 overall, 2-3 Big 12 Conference) had just 192 yards of total offense, broke off no play longer than 17 yards and failed to score an offensive touchdown all day.
To make up for the poor display, ISU brought an aggressive defensive game plan to Saturday's contest, calling blitz after blitz and forcing KU's quarterbacks -- all three of them -- to think quicker than they seemed comfortable doing.
Starter Adam Barmann was adequate, but was hurried out of the pocket in the second quarter, tackled hard after a gain of four yards, and sat out the rest of the day with an apparent injury to his throwing shoulder. The injury didn't appear to be too serious -- Barmann was seen swinging the arm around on the sideline in an attempt to loosen it -- but he never did return.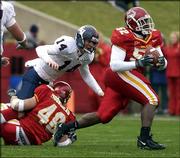 Barmann's surprise replacement in the second quarter was Brian Luke, who fumbled twice in his first four snaps, the last of which was returned 30 yards by Iowa State's Brent Curvey for the Cyclones' lone touchdown of the day.
"The anticipation with (Luke) is that we could get the ball downfield a little bit because of his strong arm," said Mangino, KU's third-year coach. "That's not the way it played out."
Regular backup Jason Swanson then emerged in the second half, and he was the most effective simply because he had the best scrambling skills of the three to avoid ISU's blitzes. Swanson led KU in rushing with 45 yards on 10 carries and added a 20-yard touchdown pass to Mark Simmons with 3:04 to play.
It was the Jayhawks' only score of the day, but it seemed too late to inspire much hope. Earlier, the Jayhawks (3-5, 1-4) were down two possessions with more than enough time left when a halfback-pass play was called. KU was just 26 yards from the end zone -- its best field position of the game to that point -- when Green took the pitch, scrambled for breathing room and unleashed a decent throw up the right side.
But the ball was picked off in double coverage by Nik Moser, and KU's most legitimate opportunity to stage a comeback in the fourth quarter was painfully put to rest.
"They had played the toss extremely well with their safeties. They ran up and played it very, very aggressively," Mangino said of the play call. "They checked the coverage at the last second and did a great job of covering that play."
KU's defense -- like every week, it seems -- played well enough to get the victory Saturday. The big plays given up last week against Oklahoma were nowhere to be found Saturday, and one of the few long passes Iowa State attempted was intercepted by Charles Gordon deep in Kansas territory in the first half.
Regardless, the turnover battle clearly was won by the Cyclones, who intercepted three passes, forced two fumbles and returned one for the big touchdown.
Somehow, it was enough for the victory.
3.2/2.6Average yards per play for Iowa State/Kansas3-0Record KU must compile over its final three games to become bowl-eligible4-34Sacks by-yards for Iowa State13Number of first downs by each team
"It's been this way all season," linebacker Nick Reid said. "We've got to make more plays on defense, I guess."
Whatever the case, KU is on the brink of an unfulfilling step backward in 2004. At 3-5, the Jayhawks must beat Colorado and Texas at home, then topple Missouri on the road to go 6-5 and be eligible for the postseason.
Last season, KU went 6-6 and played in the Tangerine Bowl. The clinching victory was a 36-7 rout over Iowa State in the final regular-season game of the year.
This time around, the Cyclones successfully sought vindication, and they didn't seem to care all that much what KU threw out there -- or who threw it.
"We need continuity with our offense, and we need to get in sync," Mangino said. "The offense was just not productive enough to win."
Copyright 2018 The Lawrence Journal-World. All rights reserved. This material may not be published, broadcast, rewritten or redistributed. We strive to uphold our values for every story published.