Supporters of increased funding for public education marched Saturday through downtown Lawrence to encourage voters to choose candidates who will earmark money for schools.
"It's election weekend, and we want people when they vote to know that funding education is critical for my son's and our children's future," said Lawrence resident Jerry Jost. He carried his 6-year-old son, Eli, on his shoulders, during part of the march.
About 30 people, including many children, participated in the march and rally, said Richard Heckler, a Lawrence resident and one of the event organizers. Many marchers also carried signs with phrases imploring lawmakers to "Fund Our Schools."
The march started at Buford M. Watson Jr. Park and moved east to Massachusetts Street and south to the Douglas County Courthouse, 1100 Mass.
Heckler and others said it was crucial for voters in Tuesday's general election to vote for candidates who will support more funding for education. Some of those candidates took part in the march.
"You have to keep this issue in the forefront," said Rep. Barbara Ballard, D-Lawrence, who is running for re-election unopposed in the 44th House District.
Other legislative candidates marching were Jan Justice, Bonner Springs, Democratic candidate for the 10th Senate District, and Marci Francisco, Lawrence, Democratic candidate for the 2nd Senate District.
Also marching was Steve Lopes, a Kansas National Education Assn. representative. He expressed concern about national organizations, such as The Club for Growth, which helps finance campaigns of candidates who oppose tax increases.
"They don't care about our kids," Lopez said. "It's really hard to go up against them. It's an opponent you can't box with."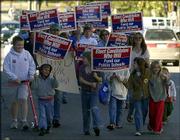 Dawn Hawkins, Lawrence, said it was important to continue pressuring legislators.
"No matter what, we're not going to stop fighting for education," Hawkins said.
Heckler agreed. He said many school districts, including Lawrence, lacked modern technological teaching equipment.
Downtown Lawrence was crowded Saturday with last-minute campaigning and campaign hijinks."Billionaires for Bush," strolled around in their formal attire and rode through downtown in their limousines, waving money at pedestrians.Douglas County Democrats and a few candidates also pulled signboards behind vehicles up and down Massachusetts Street, honking horns and waving American flags.
A little more than a year ago, a group of a few hundred people participated in a similar march and rally. Heckler said he thought many of the people who would have marched Saturday were busy campaigning for their candidates. But the march was still worth the effort, he said.
"I don't think you can do too much until we get what we need," he said.
Copyright 2018 The Lawrence Journal-World. All rights reserved. This material may not be published, broadcast, rewritten or redistributed. We strive to uphold our values for every story published.