Vienna, Austria — Human Rights Watch said Saturday it alerted the U.S. military to a cache of hundreds of warheads containing high explosives in Iraq in May 2003, but that officials seemed uninterested and still hadn't secured the site 10 days later.
The disclosure, made by a senior leader of the New York-based group, raised new questions about the willingness or ability of U.S.-led forces to secure known stashes of dangerous weapons in Iraq.
The question became a heated issue in the U.S. presidential campaign after Iraqi officials told the U.N. nuclear watchdog agency that some 377 tons of high explosives were reported missing from another site, the Al-Qaqaa military installation south of Baghdad.
Peter Bouckaert, who heads Human Rights Watch's international emergency team, told The Associated Press he was shown two rooms "stacked to the roof" with surface-to-surface warheads on May 9, 2003, in a warehouse on the grounds of the 2nd Military College in Baqouba, 35 miles northeast of Baghdad.
Bouckaert said he gave U.S. officials the exact location of the warheads, but that by the time he left the area on May 19, 2003, he had seen no U.S. forces at the site, which he said was being looted daily by armed men.
Bouckaert said displaced people he was working with in the Baqouba area had taken him to the warheads. "They said, 'There's stocks of weapons here and we're very concerned -- can you please inform the coalition?"' he said in a telephone interview from South Africa.
After photographing the warheads, Bouckaert said he went straight to U.S. officials in Baghdad's Green Zone complex, where he claimed officials at first didn't seem interested in his information.
"They asked mainly about chemical or biological weapons, which we hadn't seen," he said. "I had a pretty hard time getting anyone interested in it."
Bouckaert said he eventually was put in touch with unidentified U.S. officials and showed them on a map where the stash was located, also giving them the exact GPS coordinates for the site.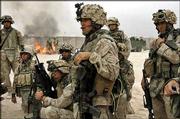 But he said he never saw U.S. forces at the site when he returned to the area for daily interviews with refugees, and that the site still was not secured when he finally left the area.
"For the next 10 days I continued working near this site and going back regularly to interview displaced people, and nothing was done to secure the site," he said.
"Looting was taking place by a lot of armed men with Kalashnikovs and rocket-propelled grenades," Bouckaert said. He said each of the warheads contained an estimated 57 pounds of high explosives.
"Everyone's focused on Al-Qaqaa, when what was at the military college could keep a guerrilla group in business for a long time creating the kinds of bombs that are being used in suicide attacks every day," he said.
The International Atomic Energy Agency said Monday that Iraq had reported 377 tons of high explosives missing from al-Qaqaa "due to a lack of security" at the vast site 30 miles south of Baghdad.
Iraqi officials told the agency the explosives went missing amid looting after the April 9, 2003 fall of the Iraqi capital.
Copyright 2018 The Associated Press. All rights reserved. This material may not be published, broadcast, rewritten or redistributed. We strive to uphold our values for every story published.