When the Class 6A cross country meet rolls around next fall, expect Free State High's Alysha Valencia to be in the top six -- again.
"I'm consistent," Valencia said Saturday at Rim Rock Farm after finishing fifth in the state meet. "That's all right."
Valencia finished fifth at state as a freshman and was sixth last year, but running at Rim Rock hasn't guaranteed success. She struggled to a 13th-place finish in the Rim Rock Classic earlier this season and was seventh at the Sunflower League meet before finishing in 15:34.48 Saturday.
"Alysha ran real well," FSHS coach Steve Heffernan said. "Her last two races here weren't very good. For her to come out and match her best time on this course was a really good accomplishment. Today was a minute faster than what she had done in her last two times out here."
Freshman Jeannie Rheams was the second-highest finisher for FSHS in 30th place. Free State was the regional champion last weekend at Emporia, but the Firebirds were seventh in the team standings at state.
"We were hoping for a place in the top six," said Heffernan, whose team placed fifth at regional last year and failed to qualify for state for the first time since the school opened in 1997. "We didn't have our best race, but we were just happy to be back here after last year. A year ago, all the girls but Alysha were sitting at home. It was good for them to end their seasons here, and we still feel good about what we did last week."
Valencia and Lawrence High freshman Kelly Renfro took turns leading the pack early Saturday, but Blue Valley Northwest freshman Laura Roxberg was firmly in control by the mile mark. Roxberg finished in 15:07.7, nearly five seconds ahead of 2003 champion Jana Gwinn of Blue Valley North.
There also was a changing of the guard in the team standings. Overland Park Aquinas won the title with 97 points, one fewer than Emporia. Shawnee Mission Northwest, which won its ninth championship in 13 years last season, settled for third.
Renfro hung with the pack most of the way and finished ninth in 15:41.64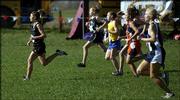 "I think I got out too fast," said Renfro, the Sunflower League runner-up. "I just wanted to medal."
She did that and was one of six Lions -- including fellow freshmen Kristina Taylor and Jennifer Taylor -- who gained valuable experience for next year. Alison Greer, who finished 54th, was the only senior in Lawrence's top seven.
"She'll be missed," said LHS coach Brian Anderson. His team finished ninth. "The rest of them will be back, and they'll be more experienced."
In the boys race, Shawnee Mission Northwest claimed its 11th consecutive championship. SMNW junior Tucker Weems took home the individual title as well, finishing with a nine-second lead over Wichita East's Brock Phillips in 15:51.58.
Free State had hopes for a team trophy after placing second in the Sunflower League and regional meets, but FSHS finished one spot too low -- fourth -- behind SMNW, Emporia and Maize.
"We thought it was a three-team race between us, Emporia and Shawnee Mission Northwest," Free State senior Danny Schneider said. "We came in hoping we could upset one of those teams, but those teams had better races than we did."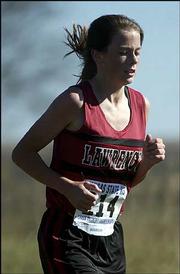 Schenider was the league and regional runner-up and placed 11th at state last year. He wasn't satisfied with his 16th-place medal Saturday.
"I was going for top five at least," said Schneider, who is being recruited by Kansas State, Nebraska and others. "I just didn't have it today."
In the Class 5A races, Miege won the girls team title, followed by Topeka Seaman and Wichita Kapaun. Winfield's Ellen Thompson won in 12:18.
Kelsey O'Hara's fourth-place finish was the best showing for fifth-place Mill Valley.
Wichita Carroll, Topeka Seaman and Salina South were the top three teams on the boys side, and Seaman's Grant Cain took the title in 16:36.36.
Runners now have to wait for spring.
"I'm really going to train hard, keep it up and have a really good track season," Valencia said.
Copyright 2018 The Lawrence Journal-World. All rights reserved. This material may not be published, broadcast, rewritten or redistributed. We strive to uphold our values for every story published.