Topeka — He coughed vehemently under a withered tree.
He couldn't catch his breath. He was hunched over with his hands on his knees.
He was worn down and on empty, but Benson Chesang was a champion.
In fact, with his performance Saturday morning at the Stateland Cross Country Course, the Kansas University sophomore became the only runner not representing Colorado to win the men's race at the Big 12 Cross Country Championship.
"I feel like I really did something good," Chesang said, "just to break the tradition of Colorado winning each and every year."
Kansas coach Stanley Redwine hoped Chesang's victory was a sign his program was on its way up.
"I appreciate that we beat Colorado, but I also appreciate that we won," Redwine said. "It's more important that we won."
Redwine said his team had to learn how to compete under any conditions before the NCAA Midwest Regional on Nov. 13 in Peoria, Ill.
The Jayhawks can learn from Chesang, who had been battling the flu and didn't know whether he could run. He hadn't slept for three days and relied on "about three gallons of orange juice" and medication to get ready to race, making blustery winds the least of his problems Saturday.
"He had a goal in mind and wouldn't let anybody get in the way of it," Redwine said. "The thing with Benson is that he will show up in a big meet ... because the guy's a competitor. I'm glad that he gutted it out."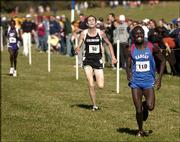 Chesang began the race alongside his brother, Matthew, a Kansas State senior, as the Colorado tandem of Brent Vaughn and Bret Schoolmeester took turns leading the pack.
"Our plan (was) to run as a group, but I don't know what happened," Benson Chesang joked about leaving his brother behind.
When Chesang passed the halfway point, he made his move.
"I realized we were in a pack, so I decided to pull out and keep my own pace," he said.
Although the brothers raced each other for most of their lives back home in Kenya, they swear there is no rivalry.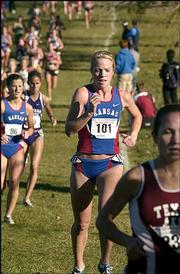 "It doesn't matter," Benson Chesang said. "He's my brother. We don't have any rivalry in the family."
Going down the stretch, Chesang had Vaughn -- who had beaten him in NCAA Pre-National competition -- and his older brother seconds behind him.
Chesang finished in a time of 24:07.43. Vaughn placed second in 24:08.82, and Matthew Chesang finished third in 24:12.90.
KU freshmen Colby Wissel had a top-20 finish, ending up 19th in 25:11.54.
The Buffaloes were just shy of victory in the men's race, but resumed their dominance in the women's event after seven CU runners finished in the top 10. Colorado's Renee Metivier finished about 40 seconds ahead of teammate Sara Slattery for the victory.
Senior Megan Manthe had the best showing for the KU women with her 47th-place finish.
Although its men finally lost a conference championship race, Colorado rolled onto another sweep in team points. The KU men finished fourth, while the women took 10th place -- the exact outcome of last year's conference championship.
Copyright 2018 The Lawrence Journal-World. All rights reserved. This material may not be published, broadcast, rewritten or redistributed. We strive to uphold our values for every story published.