Appleton, Wis. — Wrapping up a campaign shadowed by war and terrorism, President Bush and Democratic Sen. John Kerry unabashedly sought political advantage Saturday from Osama bin Laden's re-emergence.
"It's very helpful to the president," contended Bush ally Sen. John McCain, R-Ariz., although the president didn't mention the menacing new message from bin Laden at his first campaign stops on a four-state, 14-hour swing.
Rather, Bush declared, "The terrorists who killed thousands of innocent people are still dangerous, and they are determined."
Campaigning 25 miles from the president in eastern Wisconsin, Kerry responded to bin Laden's re-emergence with his months-old criticism of Bush's post-Sept. 11 tactics in Afghanistan, the terrorist mastermind's once and perhaps current home.
"It was wrong to divert our forces from Afghanistan so that we could rush to war in Iraq without a plan to win the peace," said the Democratic challenger. "It was wrong to outsource the job" of capturing bin Laden to local warlords.
As Bush and Kerry crisscrossed Midwest battleground states, a new poll showed the president moving ahead of Kerry in the popular vote, and Democrats said their private surveys hinted at momentum for the Republican incumbent.
The two candidates responded to the bin Laden tape in ways reflecting their long-held campaign strategies.
The president has sought to offset voter concerns about the war in Iraq, the economy and his overall job performance by fueling fears about terrorism -- and raising doubts about Kerry's ability to respond.
At his first stop in GOP-leaning western Michigan, the president raised the stakes in the election while reminding voters of the 2001 attacks. "Americans go to the polls at a time of war and ongoing threats unlike any we have faced before," Bush said.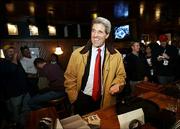 Kerry has tried to tap deep anti-war sentiment within the ranks of the Democratic Party while assuring swing voters that he would keep them safe.
With a touch of swagger, Kerry began one sentence by saying, "When I am president," and pledged to provide "leadership and hope" to U.S. troops seeking a quick return home from Iraq.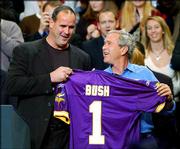 Copyright 2018 The Associated Press. All rights reserved. This material may not be published, broadcast, rewritten or redistributed. We strive to uphold our values for every story published.