London — A survey of deaths in Iraqi households estimates that as many as 100,000 more people may have died throughout the country in the 18 months since the U.S.-led invasion than would be expected based on the death rate before the war.
There is no official figure for the number of Iraqis killed since the conflict began, but some nongovernmental estimates range from 10,000 to 30,000. As of Wednesday, 1,081 U.S. servicemen had been killed, according to the U.S. Defense Department.
The scientists who wrote the report concede that the data they based their projections on were of "limited precision," because the quality of the information depends on the accuracy of the household interviews used for the study. The interviewers were Iraqi, most of them doctors.
Designed and conducted by researchers at Johns Hopkins University, Columbia University and the Al-Mustansiriya University in Baghdad, the study was released to journalists and was expected to be published Thursday on the Web site of The Lancet medical journal.
The survey indicated violence accounted for most of the extra deaths seen since the invasion, and airstrikes from coalition forces caused most of the violent deaths, the researchers wrote in the British-based journal.
To conduct the survey, investigators visited 33 neighborhoods spread evenly across the country in September, randomly selecting clusters of 30 households to sample. Of the 988 households visited, 808, consisting of 7,868 people, agreed to participate. Each household was asked how many people lived in the home and how many births and deaths there had been since January 2002.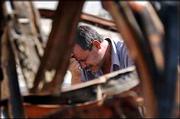 Even though the sample size appears small, this type of survey is considered accurate and acceptable by scientists and was used to calculate war deaths in Kosovo in the late 1990s.
There were 46 deaths in the surveyed households before the war. After the invasion, there were 142 deaths. That is an increase from 5 deaths per 1,000 people per year to 12.3 per 1,000 people per year -- more than double.
Copyright 2018 The Associated Press. All rights reserved. This material may not be published, broadcast, rewritten or redistributed. We strive to uphold our values for every story published.