Signs are up, paint's drying and windows are going in at Protection One's new corporate headquarters in North Lawrence.
With the Topeka-based company's planned relocation three weeks away, contractors are busy polishing off the final days of their three-month, $300,000 project at the I-70 Business Center.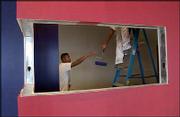 "I'm just happy for Lawrence," said Jerry Nordhus, project manager for Harris Construction Co. Inc., the project's general contractor. "This is what it takes to keep the town going. We feel real fortunate to have them in here."
Protection One will be the first publicly traded company to operate its headquarters out of Lawrence. Once listed on the New York Stock Exchange, the company now trades on the smaller OTC market.
The company intends to move from Westar's corporate headquarters beginning Nov. 16, Nordhus said, with plans to have the headquarters at 1035 N. Third St. up and running a few days later.
Protection One's new home will be inside the former Liz Claiborne store, which had anchored the former Tanger Factory Outlet Center in the 1990s. Protection One is overhauling the space, having Harris Construction knock out walls, replace fixtures and upgrade systems to accommodate an estimated 65 workers and establish a corporate identity.
Even the space's exterior windows -- which had been blacked out to block the view of an interior wall -- are being replaced with large, clear panes of glass to give workers and passers-by a chance to see what's going on.
Protection One, with more than 2,000 employees, provides electronic monitoring services for more than 1 million homes and businesses in the United States.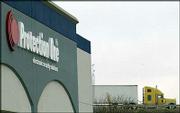 Protection One is securing some national exposure with appearances this fall on ABC's "Extreme Makeover: Home Edition."The Topeka-based company, which next month is relocating to a new corporate headquarters in Lawrence, has participated in four makeovers for the show, which airs at 7 p.m. Sundays on ABC.Among the security services and systems provided to homeowners free of charge: detectors to alert for break-ins and fires; video systems to provide surveillance; and multiyear monitoring contracts, to keep company dispatchers available to help around the clock.
Copyright 2018 The Lawrence Journal-World. All rights reserved. This material may not be published, broadcast, rewritten or redistributed. We strive to uphold our values for every story published.