Los Angeles — Rapper Eminem and baritone Josh Groban now have something in common: They are among the nominees for favorite male singer in the People's Choice Awards.
Nominees for the 31st annual People's Choice Awards were announced Tuesday by Jason Alexander and Malcolm-Jamal Warner of TV's "Listen Up" and Eva Longoria and Nicollette Sheridan of "Desperate Housewives."
The nomination and awards process, formerly based on a national poll, has been revised.
The nominees were compiled by Entertainment Weekly, the People's Choice production team and pop culture fans. The public can help choose the winners by voting online at www.pcavote.com.
The nominees include:
Favorite female movie star: Nicole Kidman, Julianne Moore, Julia Roberts, Charlize Theron, Reese Witherspoon.
Favorite male movie star: George Clooney, Tom Cruise, Johnny Depp, Tom Hanks, Denzel Washington.
Favorite female action movie star: Kate Beckinsale, Halle Berry, Angelina Jolie, Keira Knightley, Uma Thurman.
Favorite male action movie star: Matt Damon, Hugh Jackman, Tobey Maguire, Viggo Mortensen, Will Smith.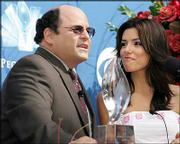 Favorite leading man: Zach Braff, Jim Carrey, Colin Farrell, Jude Law, Brad Pitt.
Favorite leading lady: Drew Barrymore, Jennifer Garner, Natalie Portman, Kate Winslet, Renee Zellweger.
Favorite group: Evanescence, Maroon 5, No Doubt, OutKast, U2.
Favorite male singer: Eminem, Josh Groban, John Mayer, Prince, Usher.
Favorite female singer: Sheryl Crow, Norah Jones, Alicia Keys, Avril Lavigne, Sarah McLachlan.
Favorite new TV comedy: "Complete Savages," "Entourage," "Father of the Pride," "Joey," "Quintuplets."
Favorite new TV drama: "Boston Legal," "CSI: NY," "Desperate Housewives," "Jack and Bobby," "Lost."
Favorite TV comedy: "Arrested Development," "Everybody Loves Raymond," "Scrubs," "That '70s Show," "Will & Grace."
Favorite TV drama: "Alias," "CSI: Crime Scene Investigation," "Gilmore Girls," "The O.C.," "Sopranos."
Favorite female TV star: Jennifer Garner ("Alias"), Lauren Graham ("Gilmore Girls"), Marg Helgenberger ("CSI: Crime Scene Investigation"), Debra Messing ("Will & Grace"), Megan Mullally ("Will & Grace").
Favorite male TV star: Jason Bateman ("Arrested Development"); Zach Braff ("Scrubs"); Matthew Fox ("Lost"); Matt Le Blanc ("Joey"), James Spader ("Boston Legal").
Favorite funny male star: Jack Black, Jim Carrey, Will Ferrell, Jon Stewart, Ben Stiller.
Favorite funny female star: Ellen DeGeneres, Tina Fey, Debra Messing, Megan Mullally, Wanda Sykes.
Copyright 2018 The Associated Press. All rights reserved. This material may not be published, broadcast, rewritten or redistributed. We strive to uphold our values for every story published.