New York — XM Satellite Radio announced an 11-year, $650 million deal with Major League Baseball on Wednesday, the latest move in a costly race with rival Sirius Satellite Radio, which earlier this month signed a five-year, $500 million deal with shock jock Howard Stern.
Both companies, which have lost a combined $2.5 billion in the past 12 years, are making investments in big-name radio personalities and big-league sports in the hope that they can quickly boost the number of paying customers before the bills for those services come due.
And in the tussle between the two companies, XM has the early lead. It now has 2.5 million subscribers who pay $9.95 a month for 130 channels of music and talk radio via satellite receivers. That compares with 700,000 subscribers paying Sirius Satellite Radio Inc. $12.95 a month for 120 channels.
The baseball deal "is the crown jewel -- the deal that we've been waiting for," said Hugh Panero, CEO of Washington-based XM Satellite Radio Holdings Inc.
Major League Baseball officials said they had negotiated with Sirius as well. On a conference call Wednesday, Major League Baseball officials said the league's chief financial officer assured them XM could pay; nonetheless, the league is requiring XM to put $120 million in escrow as part of the deal.
XM said Wednesday it would need to sign about 700,000 new subscribers during the course of the deal to generate enough cash to cover its cost.
That projection is "simplistic," Banc of America Securities analyst Jonathan Jacoby wrote in a research note Wednesday. The target number of new subscribers doesn't take into account increased marketing and financing costs, customers who drop out and advertising revenue the company could get from baseball, he wrote.
He and other analysts said XM would have to issue more stock or debt to pay for the deal.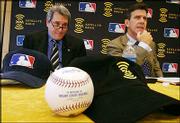 XM shares rose 11 cents a share, or 0.1 percent, to $29.16 trading Wednesday. Shares of Sirius closed down 1 cent, or 0.2 percent, to $3.78 a share. Both trade on the Nasdaq Stock Market.
Copyright 2018 The Associated Press. All rights reserved. This material may not be published, broadcast, rewritten or redistributed. We strive to uphold our values for every story published.