Marynell Jones has heard enough complaints about Wescoe Hall, which is widely viewed as the biggest eyesore on the Kansas University campus.
She wants her tuition dollars to help pay for a complete overhaul of the building, inside and out.
"It is the butt of all jokes," said Jones, a junior from Flower Mound, Texas. "KU really is a beautiful campus -- until you get to Wescoe. We want it to be beautiful throughout."
Wescoe would have a new look in as little as three years under a proposal by KU's College of Liberal Arts and Sciences that also would construct a $70 million science facility and renovate several other campus buildings.
The projects would be funded with a $30-per-credit-hour fee to students taking courses from the college. About 17,000 of the 26,980 students on KU's Lawrence campus are majoring in the college's programs, and all students in other majors are required to take courses in the college.
The proposal already has divided students. Those opposed to the plan say students shouldn't have to shoulder the burden of paying for campus buildings the state should provide.
Tuition wave
The college's proposal is the latest in "differential tuition" plans at KU. Only the college and the School of Social Welfare charge students the base rate of $138.75 per credit hour for undergraduate students from Kansas.
The remainder of the schools charge additional tuition of $12 to $75 per credit hour for undergraduate programs. The proliferation of additional charges -- there were five new differential tuition rates approved for this year -- comes at a time when base tuition at KU has increased by at least $16.50 per credit hour each of the past four years, with another increase expected next fall.
The School of Social Welfare also will propose a differential tuition rate for the next school year, said Dean Ann Weick. She said it was too early in the process to know how much the fee would be, or what it would fund.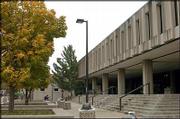 Kim Wilcox, dean of the college, said his process began last spring, when a small group of students and faculty members began meeting to discuss a possible higher tuition rate. Wilcox and students who are advising him will begin holding a series of open forums on the proposal tonight.
The plan
If approved by KU's top administrators, the Kansas Board of Regents would consider the fee in June 2005. As proposed, it would be phased in over three years -- $10 the first year, $20 the second and $30 for each following year.
Wilcox said architects would be hired immediately for the projects, which would be funded by 20-year bonds. The tuition increase would generate $12 million to $13 million a year, with 20 percent of the money going to need-based financial aid -- the same percentage KU has set aside the past four years for its tuition increases.
Wilcox said the bulk of the projects could be completed in three years. Specifically, the proposal includes:



Complete renovation of Wescoe Hall, which would cost between $30 million and $40 million.
The building would be given a new facade, in brick or terra cotta, a clock tower and a new entryway on the north side, commonly called "Wescoe Beach" by those who pass time there between classes.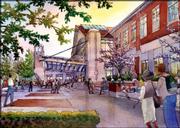 Inside, the building would be gutted to make way for new atria and reconfigured hallways. The design also would include improved offices and classrooms. The construction would be done in phases to minimize classroom disruptions.
A new $70 million science building, which would include both classrooms and faculty research labs.
The science facility was among the goals of the KU First capital campaign under way at the KU Endowment Association, but no money has been raised for the project. The building would be between Wescoe and Malott halls, and be connected to neighboring structures by catwalks.
Renovation of other offices and classrooms that hold liberal arts and sciences programs, including Bailey, Blake and Fraser halls.
Wilcox said a new social science building also might be part of the proposal.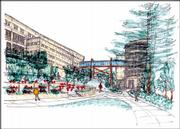 Most projects funded by differential tuition increases in other schools have focused on student services or faculty positions. Jones, who was on the student advisory committee, said she was convinced improving facilities also would have a direct benefit for students.
"The quality of the faculty you hire and the quality of education is directly related to the space you're in," she said.
Wilcox said the proposal would add new life to the heart of campus.
"The college is the center of campus in a lot of ways," he said.
Student dissent
But Brian Thomas, a student senator and senior from Plano, Texas, isn't convinced.
He said increasing tuition to pay for buildings sent a message to legislators that students didn't mind filling gaps in state funding for education.
"These are major capital improvements the state needs to be funding," Thomas said. "Whether (KU) can't get the money from the state or has been unsuccessful in their lobbying, it's not a very valid reason to tax students."
He added that because so many students took liberal arts and sciences courses, the increase would amount to a base tuition increase.
Jayme Aschemeyer, a senior from Aurora, Colo., said she was concerned students hadn't had enough input into the proposal.
"It's been very hush-hush," she said. "They've been planning it since last (school) year, and we've heard nothing about it."
Wilcox said that students had been involved in the process and that he was open to hearing more student input in the forums beginning tonight.
"We didn't want to go to the students without knowing exactly what the deal would be," he said.
Copyright 2018 The Lawrence Journal-World. All rights reserved. This material may not be published, broadcast, rewritten or redistributed. We strive to uphold our values for every story published.