New York — Microsoft and watch maker Swatch are offering a new line of wireless data watches, the companies said Wednesday, bringing the era of Dick Tracy wristwatch radios one step closer.
The watches offer news, sports, weather and stock quotes, among other snippets of content, via Microsoft's MSN Direct wireless data service. Twice the number of information channels of earlier Microsoft-based models are available.
Known as the "Paparazzi" line, the computerized Swatches also offer local entertainment updates through a deal with publisher Time Out.
The watches come with three levels of service. Each comes free with local weather, news headlines and stock index levels. For $40 a year, users can receive more weather data, personalized news and sports scores, stock quotes, horoscopes and the like. For $60 annually, they can receive instant messages and calendar reminders from their PC if they use Microsoft Outlook software.
Microsoft and Swatch began work on watches three years ago.
"This is a new way of getting information," Bill Gates, Microsoft's chairman and chief software architect, told a news conference.
"It's glanceable information and it's a combination of the two things that I think people really care about -- fashion, something that's fun and exiting, and technology that brings them personal information," he said.
Paparazzis retail for $150, or two to three times the cost of conventional watches sold by the Swiss watch maker.
With the addition of Swatch, there will now be 12 Microsoft "wrist-top" watch models on sale for the holiday season. The first such watches were introduced at the start of this year.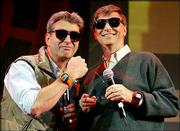 Other manufacturers include the youth-oriented watch maker Fossil, Finnish sports gear maker Suunto and luxury brand Tissot, another Swatch Group brand.
The existing watches range in price from $129 for a Fossil to $725 for a Tissot.
All of the watches are bulky, a function of the need to embed a wireless antenna in the watch body or wristband.
The watches utilize unused local FM radio channels to broadcast general content as well as personalized scheduling information to watches. Messages also can be delivered to the watches using Microsoft Messenger instant-messaging software.
True two-way phone features like those used by Tracy, the iconic cartoon detective, would require stronger batteries and smaller chips than are now economical.
Newer models of the Microsoft watches are thinner and more stylish than the first versions of the computerized watches introduced a year ago.
Copyright 2018 The Lawrence Journal-World. All rights reserved. This material may not be published, broadcast, rewritten or redistributed. We strive to uphold our values for every story published.