Topeka — There's a third-party candidate in the 2nd Congressional District race, and he has been excluded from a televised debate.
Libertarian Dennis Hawver is steamed about the snub.
"I think it's sad, and it's also a bit infuriating," Hawver, an attorney from Ozawkie, said Wednesday.
U.S. Rep. Jim Ryun, a Republican from Lawrence, and Democratic challenger Nancy Boyda, of Topeka, will face off in a debate at 2 p.m. today at KTWU, the public television station in Topeka.
The debate, co-produced by KTWU (Sunflower Broadband Channel 11) and Topeka NBC affiliate KSNT-TV (Sunflower Broadband Channel 8), will be taped and shown from noon to 1 p.m. Saturday on KSNT and from 3 p.m. to 4 p.m. Sunday on KTWU.
Amanda Shaw, a KTWU producer, said Hawver wasn't invited to the debate because there was little chance he would win.
"For all intents and purposes, the viewers would be best-served with the hour being spent with Ryun and Boyda," she said.
Hawver, who ran as a Libertarian for governor in 2002 and Congress in 2000, didn't take kindly to the reasoning.
"It seems to me that a public television station that is the recipient of public funds should give every candidate on the ballot the right to appear," he said.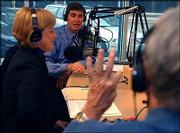 Hawver opposes the war in Iraq and criticizes Ryun for giving President Bush the authority to invade the country.
Except for the tax cuts, Bush's presidency has been a failure, Hawver said.
"If they want to hear a different viewpoint on what is going on in the country, they ought to invite me," Hawver said. "I think I have a right to put the Libertarian view out to the public."
Hawver said the debate blackout was particularly irksome because on Tuesday KTWU taped a U.S. Senate debate that included Democratic, Libertarian and write-in candidates. Republican Sen. Sam Brownback was a no-show at the debate, but the debate will include a five-minute tape of his comments.
Shaw said another reason Hawver was passed over was because he was not running a visible campaign. But Hawver disagreed, saying he had spoken at candidate forums, including several that Ryun and Boyda had skipped.
Copyright 2018 The Lawrence Journal-World. All rights reserved. This material may not be published, broadcast, rewritten or redistributed. We strive to uphold our values for every story published.