Baghdad, Iraq — Iraq's interim government complained Wednesday that the United Nations wasn't doing enough to help prepare for January elections, saying the organization had sent fewer electoral workers than it did when tiny East Timor voted to secede from Indonesia.
U.S. aircraft, meanwhile, mounted four strikes in Fallujah on what the U.S. military said were safehouses used by Abu Musab al-Zarqawi's terror network. A Sunni Muslim clerical group demanded that the Iraqi government prevent any full-scale U.S. attack on Fallujah, hoping to muster the same public anger that forced the Marines to abandon a siege of the city last spring.
In other violence, 11 American soldiers and an Iraqi interpreter were wounded when two car bombs exploded in Samarra, a city that U.S. and Iraqi forces have hailed as a success story since taking it from insurgents last month. An Iraqi child was killed, and a civilian was wounded, the Army said.
A suicide bomber in Baghdad detonated his car near a U.S. patrol on the airport road, wounding two American soldiers and two Iraqi policemen. The road is among the most dangerous in the capital. Zarqawi's terror organization claimed responsibility for the attack, though it was not immediately possible to verify that the Internet posting was authentic.
The U.S. State Department said it had "credible information that terrorists are targeting civil aviation.
"Civilian and military aircraft arriving in and departing from Baghdad International Airport have been subjected to small arms and missiles," the State Department said Wednesday in a statement. "Civilian aircraft do not generally possess systems, such as those found on military aircraft, capable of defeating man-portable, surface-to-air missiles."
U.S. and Iraqi forces have stepped up operations seeking to curb insurgent violence so that Iraqi voters throughout the country can choose a new transitional government in January. The elected assembly is to draft a new constitution in a major step toward democratic rule after decades of tyranny and military occupation.
But Foreign Minister Hoshyar Zebari complained that the United Nations had not sent enough election experts to help prepare for the balloting.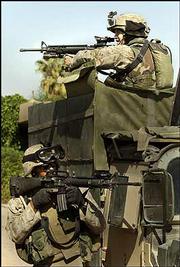 "It is unfortunate that the contribution and participation of U.N. employees in this process is not up to expectations," Zebari told reporters.
He said the number of U.N. workers expected to help in the election was far smaller than the 300 workers the United Nations sent for the 1999 independence referendum in East Timor.
"Judging by the size of the process in Iraq and its complexity, we definitely need a larger U.N. presence in Iraq, at least to bestow trust upon the electoral process," Zebari said.
The United Nations pulled its international staff out a year ago after bombings at its Baghdad headquarters killed 22 people, including the top U.N. envoy, Sergio Vieira de Mello.
U.N. chief Kofi Annan has since allowed a team to return to help with elections but imposed a ceiling of 35 non-Iraqi staffers. In the meantime, the United Nations is training Iraqis outside the country so they can come back and instruct other Iraqis on how to run an election.
Copyright 2018 The Associated Press. All rights reserved. This material may not be published, broadcast, rewritten or redistributed. We strive to uphold our values for every story published.