Los Angeles — Super Mario for president?
Probably not (since he wasn't born in America), but for the first time in presidential politics, video games have entered the race, joining Internet blogs as the 2004 election's newest format for political expression.
So what options do gamers have in the digital campaign?
Armchair political junkies can try to outfox President Bush's election strategist Karl Rove or attempt to run a better campaign than Sen. John Kerry by building support in battleground states in "The Political Machine."
Meanwhile, with a downloaded mission for the shooting adventure "Kuma War," anyone curious about the battle in which John Kerry won his Silver Star for heroism can step into his combat boots and engage in a firefight from the deck of a Swift boat on the Mekong Delta in 1969.
Those who like a dose of gross-out humor with their intricate public-policy debate can try out "Bushgame.com," in which 1980s TV characters wage war against monsters in the Bush administration. The reward at the end of each goofy level: a text critique that lambastes the president's positions on Iraq, the economy, taxes and Social Security.
Some game developers take a nonpartisan approach. In "The Political Machine," you can play as either candidate, and the issues they face -- gun control, terrorism -- aren't spun for or against either contender.
Players compete by building campaign headquarters, collecting contributions and supporting issues that are traditional to their respective parties, said Larry Kuperman, marketing executive for game creator Stardock Entertainment.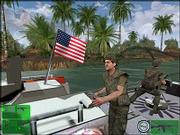 "A Republican that came out and said, 'I don't think anyone should ever be able to own a gun' ... that's saying, 'I want to lose the election as quickly as possible,'" Kuperman said.
David Sicherman, 31, proprietor of KerrySucks.com, showcases games like "The Kerry Torture Chamber."
"No one is going to decide who they're going to vote for based on the video game," he said, "but if they play an anti-Kerry game, and they're anti-Kerry, it makes them laugh."
Copyright 2018 The Associated Press. All rights reserved. This material may not be published, broadcast, rewritten or redistributed. We strive to uphold our values for every story published.