Given the shortage of flu shots, health officials say Saturday's flu-vaccine clinic is meant to help those residents deemed at high risk to suffer most from the illness.
But the city's bed-ridden and most infirm may not be able to travel to the clinic or stand and wait in lines. The clinic is scheduled from 10 a.m. to 2 p.m. at Free State High School, 4700 Overland Drive.
Donna Bell, spokeswoman for Brandon Woods Retirement Community, said only residents in the community's apartment and town-home areas would go to receive a flu shot on Saturday.
"We are still working furiously to get vaccine to help those living in health care and assisted living because they aren't able to go," Bell said. "Many of them need wheelchairs or walkers and aren't up to a lengthy clinic. So this clinic is really good and helpful, but for those who are able to get out on their own."
Bell also is concerned about staff at the retirement community, many of whom are waiting to get a shot until residents have one. That's a prevention issue, she said, because health care workers are among those considered at risk.
Lawrence-Douglas County Health Department spokeswoman Janelle Martin said originally the Saturday clinic was to allow local health officials to train for an emergency where they might have to medicate a large group of people in a short time. But the plan changed when the nation's flu vaccine supply was cut in half. British regulators shut down shipments from Chiron Corp., which produced millions of flu shots earmarked for the U.S. market. The problem caused the U.S. Centers for Disease Control and Prevention to pull back flu vaccine, leaving Douglas County to work with just 1,600 doses.
While the focus of the clinic now is on people in high-priority groups as designated by the CDC, Martin said it also was an opportunity to learn.
"Our first priority is to give shots to those people in the priority group, but also to evaluate what our plan is and to see what the flow of the clinic is like," she said.
Martin said officials wouldn't require attendees to back up medical claims with documentation. Those wanting a shot must fill out a form noting which priority group they fall into, but Martin said they wouldn't, for example, need to prove they have heart disease or asthma.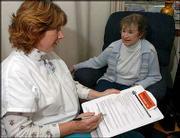 "What we hope is that people understand that there is a shortage nationally and the reason that the CDC has identified people who are in the priority groups is because those individuals need a flu shot most," Martin said. "They're the people more susceptible to having complications if they get the flu."
Bell said that she considered the clinic on Saturday to be more than an exercise.
"This really is an emergency," Bell said. "I think we're going to learn a lot from this. I think we're going to learn a lot as a community and a lot about the community."
Martin said the local health department hadn't received more flu vaccine. But Kansas Department of Health and Environment spokeswoman Sharon Watson said Aventis, a maker of the flu vaccine, should have an additional 2 million doses ready by January, still the height of the flu season.
Those doses will go to providers that distribute to high-priority groups, such as nursing homes.
"We hope the redistribution process will help those providers that didn't order from Aventis," Watson said.
The state also will receive 24,000 vaccine doses for children, which it will dispense to uninsured youngsters or those covered by HealthWave or Medicaid. American Indian children also will be eligible. Watson said that about 100,000 Kansas children ages 2 to 18 qualified.
"Traditionally, less than 30 percent get vaccinated, so that's all the CDC will allow us," she said.
The Lawrence-Douglas County Health Department flu clinic will be from 10 a.m. to 2 p.m. Saturday at Free State High School, 4700 Overland Drive. The cost will be $12 for children 3 and under and $17 for all others. People should have insurance cards ready for billing purposes.The clinic is for people in high-priority groups. That includes:¢ All children aged 6-23 months.¢ Adults 65 and older.¢ People 2-64 with underlying chronic medical conditions.¢ All women who will be pregnant during influenza season.¢ Residents of nursing homes and long-term care facilities.¢ Children 6 months to 18 years of age on chronic aspirin therapy.¢ Health care workers with direct patient care.¢ Out-of-home caregivers and household contacts of children 6 months and younger.
Copyright 2018 The Lawrence Journal-World. All rights reserved. This material may not be published, broadcast, rewritten or redistributed. We strive to uphold our values for every story published.