Nashville, Tenn. — People interested in an out-of-this-world post-death experience can "boldly go where no man has gone before" with a space memorial service that blasts their ashes into space.
For $995, Space Services Inc. will place a gram of a person's ashes in an aluminum capsule, about the size of four dimes stacked together, attach it to a rocket and send it into space. For $4,300 more, 7 grams of ashes are transported in a lipstick-size container.
The most famous client of Space Services: "Star Trek" creator Gene Roddenberry, who orbited Earth for six years after his death in 1991. Part of the mission of "Star Trek: The Original Series" was "to boldly go where no man has gone before."
"It's very compelling for people ... and we've helped open a new frontier," said Charlie Chafer, chief executive of the Houston-based firm.
Space Services was among some 440 companies offering their services Tuesday in Nashville at the annual National Funeral Directors Association Convention, which included booths hawking everything from caskets and hearses to burial gowns and "comfort music" that promotes "growing through grief."
Space Services conducted its first "space funeral flight" in 1997 with Roddenberry's ashes and those of 23 participants from all walks of life, including a 4-year-old Japanese boy, a restaurateur from New York and a couple of former NASA scientists.
In each flight, Chafer and his eight-person team place the ash-filled capsules in a tube and attach them inside a rocket scheduled to send a satellite into space. Once in orbit, the satellite peels off from the rocket's "last stage," which continues to circle the Earth with the capsules inside.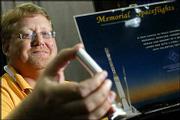 "We basically hitchhike," said Chafer, who buys unneeded space from companies that use the crafts to launch satellites -- typically at a cost of $30,000 a trip.
The capsules normally stay in orbit between 10 and several hundred years before falling and "vaporizing like a shooting star," Chafer said.
Flights continue in January with more than 100 scheduled participants -- the first of three launches planned for 2005.
Copyright 2018 The Associated Press. All rights reserved. This material may not be published, broadcast, rewritten or redistributed. We strive to uphold our values for every story published.