St. Louis — Jim Edmonds has a flair for the dramatic in center field, climbing walls to steal home runs and tumbling for other catches. He'll play to the crowd a bit, too.
At the plate, he takes a more businesslike approach, but the results can be just as good.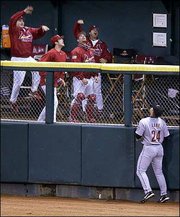 Edmonds hit 42 home runs in the regular season, but insisted he wasn't looking for one Wednesday night when he delivered the biggest of his career, a two-run shot in the 12th inning that beat the Houston Astros, 6-4, to even the National League championship series at three games apiece.
"I was just looking for a ball to get a good swing at," Edmonds said. "I wasn't trying to go deep. I was trying to hit the ball hard."
Edmonds had struck out in his previous two at-bats, and the Cardinals hadn't had a hit since the seventh.
"I just try to get locked in," Edmonds said. "I think every now and then you get a wakeup call."
The homer put the Cardinals one victory away from validating their major-league-best 105-57 regular-season record and advancing to the World Series for the first time in 17 years.
It was clearly the biggest hit of the NLCS, but the biggest of his career?
"I'd be probably stupid to say no," Edmonds said.
Copyright 2018 The Associated Press. All rights reserved. This material may not be published, broadcast, rewritten or redistributed. We strive to uphold our values for every story published.