Tokyo — Japan's deadliest storm in more than a decade unleashed flash floods that washed away hillsides, killing up to 51 people before it veered east into the Pacific Ocean today. At least 30 people were missing.
Rescue workers and Japanese troops worked through the night and morning, digging through mud and debris and combing flooded rivers and coastal waters in search of the missing, Japanese media reported. Public broadcaster NHK said the combined deaths and missing were the highest in 16 years.
"The death toll is likely to keep rising, as we take stock of the damage," National Police Agency spokesman Kojun Chibana said.
Typhoon Tokage made landfall on Japan's main islands early Wednesday and was downgraded to a tropical storm by the evening, but its winds and torrential rains were the deadliest in more than a decade.
Early today, the storm had swiped Japan's eastern coastline, then headed east to open seas, its fury spent.
Rescue workers and Japanese troops mounted a search for at least 30 people still missing, digging through mud and debris and combing flooded rivers, Japanese media reported.
At least 238 people had been injured, police spokesman Chibana said.
Television footage showed powerful gusts uprooting huge trees, flash floods submerging cars to their windows, and entire hillsides crumbling away in landslides across southern and central Japan.
Concrete frames, wood splinters and electrical appliances were all that was left of homes in Muroto in southwestern Kochi prefecture, where massive waves broke through concrete tidebreaks and smashed into beachside properties. In large areas of western and southern Japan, neighborhoods and farmlands still were under water.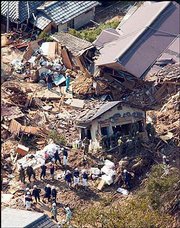 The storm caused more than 927 flight cancellations, left 265,000 households without power and forced at least 9,900 people to evacuate Wednesday, NHK reported. Some 120 more flights were reportedly canceled today.
Parts of southern Japan, including Miyazaki prefecture, were virtually shut down as public schools closed and local bus, train and air transport came to a halt, prefectural spokesman Takashi Arimura said.
Tokage, the Japanese word for lizard, was the record eighth typhoon to hit Japan this year.
Police said 30 people were missing, including two in landslides and two who were feared to have been swept away in high waves in Chiba prefecture, next to Tokyo.
In western Kyoto prefecture, two women, a 72-year-old and a 79-year-old, were discovered dead early today inside their homes, which had been destroyed by a landslide, Chibana said. A 70-year-old man living in the same village had drowned, he said.
On the southern main island of Shikoku, in Kochi prefecture, waves had hit a coastal home, killing a family of three, while a 68-year-old fisherman was swept away and drowned after trying to dock his boat, prefectural spokesman Masatoshi Iwamoto said.
Nationwide, more than 7,000 homes were flooded and hundreds of others ripped apart or buried, Chibana said.
The Meteorological Agency had warned of waves of up to 30 feet hitting southern coastlines. It also recorded as much as 15.75 inches of rain in parts of southwestern Japan Wednesday.
Copyright 2018 The Associated Press. All rights reserved. This material may not be published, broadcast, rewritten or redistributed. We strive to uphold our values for every story published.