New York — Johnny Damon was confident he would break out of his terrible slump in the AL championship series.
He sure was right -- and in a big way.
Damon hit a grand slam and a two-run homer for an ALCS-record six RBIs in the Boston Red Sox's 10-3 victory over the New York Yankees in Game 7 on Wednesday night.
"That was very sweet," a champagne-soaked Damon said in the Red Sox's jubilant clubhouse. "We needed those runs. You can never be satisfied being up a couple of runs on the Yankees."
The long-haired heart and soul of the Red Sox was headed to an improbable World Series appearance, and he was a major reason.
"I knew this win was coming around, and tonight that was pretty evident," Damon said.
Damon, 3-for-6, swatted away his series-long slump with two big homers and helped Boston push aside years of playoff disappointments against the rival Yankees with one of the greatest comebacks in postseason history.
"I always expect that from Johnny," series MVP David Ortiz said. "I don't care if Johnny is 0-for-30 or 0-for-50. Everybody knows what kind of hitter Johnny is, and everybody knows that Johnny is going to step up in one of those games and represent the way he did."
Damon hit .304 with 20 homers and 94 RBIs during the regular season and carried his success into the first round of the playoffs by hitting .467 (7-for-15) with three stolen bases against Anaheim.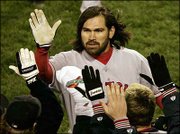 But he was just 3-for-29, .103, with one RBI in the first six games of the ALCS and repeatedly fielded questions about his struggles.
Through it all, Damon's confidence never wavered -- not when he looked lost at the plate and not when the Red Sox fell behind the Yankees 3-0 in the series.
"The good thing about this team is that we always kept the faith," he said.
Damon stood at his locker after each game and even took the blame for the Red Sox's 2-0 series deficit. He was 0-for-8 with five strikeouts and even tried to change his look by trimming his long locks, looking less like a caveman than usual.
It didn't make a difference. The slump persisted -- and so did the doubts. But the Red Sox rallied to tie the series with a shocking comeback, even though Damon remained quiet.
"He's a good, good player," manager Terry Francona said. "We just tried to remind him of that."
Damon had one last chance to put his own mark on this series in the deciding Game 7.
He tried to make things happen in the first inning when he led off with a single to left and stole second but was thrown out trying to score on Manny Ramirez's single to left-center.
One inning later, Damon finally turned it all around.
Kevin Millar singled to center with one out and Yankees starter Kevin Brown walked Bill Mueller and Orlando Cabrera to load the bases. Javier Vazquez came in and threw one pitch to Damon, who launched it over the right-field wall for a grand slam and a 6-0 lead for Boston.
Copyright 2018 The Associated Press. All rights reserved. This material may not be published, broadcast, rewritten or redistributed. We strive to uphold our values for every story published.