Kansas University freshman Kelly Spencer has been using a cell phone as long as she can remember.
"My whole life I've had a cell phone," Spencer said.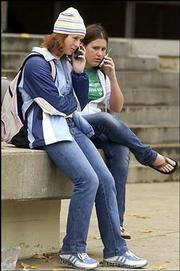 And if you flip through her electronic phone book, you'll see most of her friends are just as reliant on their cells.
"Every single one of them has cell phones. I don't think we talk any other way," she said.
It's the Kelly Spencers of society who are eluding political pollsters across the country. Most national polls use computers, and the computer-assisted telephone interviewing systems, also know as CATI, generally don't include cell phone numbers on their call lists.
That means pollsters could be missing the views of a sizable portion of the population, especially young people who tend to favor cell phones over land lines.
"Pretty much all private firms that would poll on a national level would use a CATI system," said KU associate political science professor Donald Haider-Markel. "We don't have enough demographic information to know for sure who's being excluded."
Haider-Markel is familiar with the dilemma. He's director of the Policy Research Institute's Survey Research Center, which conducts mail, phone and Web-based polls.
And although he said the center could get lists of cell phone numbers, they generally are not included in surveys.
"You could potentially call a person twice," Haider-Markel said. "Once on their home phone and once on their cell phone."
Also, surveyors know by a fixed phone line's prefix where it is geographically located. But that doesn't hold true with cell phone numbers. And, Haider-Markel said, cell phone users are considered less likely to participate in telephone surveys because they would be charged for the time spent on the phone.
Some KU students said they thought the younger voter was being excluded in the national polls.
"They're leaving out our population," KU junior Jeffrey Nelson said. "Older people are more likely to have a land line."
Nelson estimated 75 percent of his friends depended on cell phones. The Jayhawker Towers resident has a land line, but said he and his roommates used it only to order pizza.
"If someone wants to get a hold of me, then they can call me on my cell phone," Nelson said.
Copyright 2018 The Lawrence Journal-World. All rights reserved. This material may not be published, broadcast, rewritten or redistributed. We strive to uphold our values for every story published.