Students in Susan Lomshek's third-grade class at Schwegler School may not all know how they would vote Nov. 2, but they know what they wish for the country's future.
Lomshek's students wrote down their wishes for the country Tuesday and put them on a tree that looked similar to the one from the animated film "A Charlie Brown Christmas."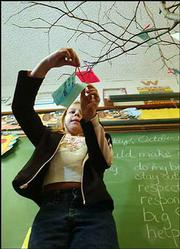 "I wish you wouldn't have to pay to go to the doctor," said Emily Wangler, 8, reading her wish to the class. Most students wished for the war in Iraq to end.
Students decided on their wishes for the nation after Lomshek led a classroom discussion about what they wanted for the country. Lomshek said she had discussed the upcoming election and the importance of voting in her classroom lessons.
Like many children, the students in the class plan to participate in the Kids Voting exercise, which coincides with the Nov. 2 election.
Coordinated by the Lawrence Journal-World, Douglas County public schools, area businesses and the Roger Hill Volunteer Center, Kids Voting provides kindergarten through 12th-grade students the opportunity to have a voting experience.
The third-graders in Lomshek's class said they had learned a great deal during their discussions about the election.
Evan Duye, 8, said she's decided to vote for President Bush. She thinks he's doing a good job.
"But I've learned that it's OK for everyone not to vote for him because everyone has different opinions," she said. "But I can't get mad at them because they have a different opinion."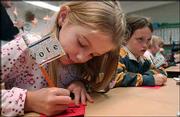 Students also talked about strategy.
Sean Davis, 8, said Democratic challenger Sen. John Kerry looked to be gaining votes.
"But I don't know if it will be enough to beat President George Bush," he said.
Students in Douglas County will be able to participate in Kids Voting from 7 a.m. to 9 a.m. and from 3 p.m. to 7 p.m. at all polling sites within the county.
Kids Voting Douglas County continues to need more volunteers to staff polling sites throughout the county.David Morrissey, spokesman for the Roger Hill Volunteer Center, said most of the unfilled volunteer positions are in rural Douglas County, Baldwin and Eudora.Shifts are from 6:45 a.m. to 9 a.m., 2:45 p.m. to 5:30 p.m. and 5:15 p.m. to 7 p.m. To volunteer, call 865-5030.
Copyright 2018 The Lawrence Journal-World. All rights reserved. This material may not be published, broadcast, rewritten or redistributed. We strive to uphold our values for every story published.