Houston — Jeff Kent flung his bat to the side and pumped his right fist as soon as the ball took flight, certain he was going to make a long-awaited trot around the bases.
He'd gone over this moment in his mind before, watching St. Louis' Albert Pujols and Boston's David Ortiz finish big postseason victories by wading into a mob of teammates at home plate.
Kent fulfilled that wish Monday night, hitting a three-run homer in the bottom of the ninth to give the Houston Astros a 3-0 win over the St. Louis Cardinals in Game 5 of the NL championship series.
"Watching those guys do what they're doing, knowing the emotions that they probably are going through," Kent said, "I wanted to be those guys. I wanted to feel like that."
The Astros have a 3-2 lead in the best-of-seven series, only a win away from their first World Series in 43 years of existence.
Overshadowed throughout the postseason by Houston's "Killer Bs" -- Carlos Beltran, Lance Berkman, Jeff Bagwell and Craig Biggio -- Kent finally seized the spotlight with his dramatic walkoff homer, Houston's first since April 2003.
That was the longest active streak in the majors without a walkoff. Kent also had the Astros' last one.
Kent perfectly imitated those Pujols and Ortiz highlights, rounding the bases with a smile on his face before tossing his helmet in the air and jumping into the waiting arms of his teammates.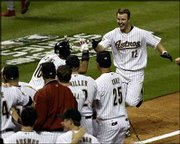 "That's the kid in me that loves to play this game," Kent said. "I want to be the other guy who's having a great time."
It was a rare display of cheerfulness from the 2000 NL MVP and four-time All-Star, who prides himself on his cool -- some might call it aloof -- demeanor on the field and in the clubhouse.
"I've struggled with my emotions at times to try to control them while I played his ballgame," Kent said. "I think I've been able to do that better now through the end of my career. I let my parents and my kids get overly excited. I try to keep an even keel."
Copyright 2018 The Associated Press. All rights reserved. This material may not be published, broadcast, rewritten or redistributed. We strive to uphold our values for every story published.