Washington — Federal health officials said Tuesday that 2.6 million additional doses of flu vaccine would be available in January, far fewer than the 48 million lost to contamination at a British manufacturing plant.
The shipment also arrives after the date the government recommends for vulnerable Americans to have had their shots. That makes it unclear how helpful the extra vaccine doses will be. Most flu seasons peak in January or later, and it takes two weeks for people to develop immunity after being vaccinated. People should be vaccinated in October or November, according to the federal Centers for Disease Control and Prevention.
"We're waging a comprehensive and aggressive response," Tommy Thompson, secretary of Health and Human Services, told a news conference. "We have good reason to be optimistic in our ability to deal with the flu season and protect the most vulnerable from its harsh effects."
He said there was enough antiviral medicine available to treat 40 million people -- shortening illness in people sick with the flu and preventing illness in healthy people.
Thompson aggressively defended the administration's response to the shortage in the wake of criticism from Sen. John Kerry, President Bush's Democratic challenger, who has raised the issue on the campaign trail.
"No president or administration has invested more in the flu than this one," Thompson said. He pointed to a fiscal year 2005 proposal for $283.1 million, compared with $39.3 million in flu-related investments in 2001.
Kerry has said the administration failed to heed warnings about a potential shortage.
"If you can't get flu vaccines to Americans, how are you going to protect them against bioterrorism? If you can't get flu vaccines to Americans, what kind of health care program are you running?" Kerry said.
At a news conference Tuesday, manufacturer Aventis Pasteur announced it could produce another 2.6 million doses, for a total of 58 million doses.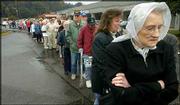 David J. Williams, Aventis Pasteur chief executive officer, said the company got better than expected yields from its two A strain vaccine production runs. And Williams made a hedge bet to order additional eggs. Beginning next week, Aventis Pasteur will grow more B strain in eggs to create vaccine that covers three flu strains.
The extra vaccine won't be ready for distribution until January.
Meanwhile, officials are looking "throughout the world" for additional vaccine, said Lester Crawford, Food and Drug Administration acting commissioner.
"It is not possible at this point to say exactly how many additional doses we will find or what the fate of them will be in the regulatory process," Crawford said.
Crawford said the FDA would give expedited review to flu vaccine produced by ID Biomedical of Canada. The expedited review -- "weeks, rather than months" -- means the 1.5 million Canadian flu shots could reach Americans this season, he said. The agency plans to send its own inspectors to ensure the Canadian facilities meet U.S. manufacturing standards.
Copyright 2018 The Associated Press. All rights reserved. This material may not be published, broadcast, rewritten or redistributed. We strive to uphold our values for every story published.