Denver — Pat Tillman always stood up for what he believed. His friend Jake Plummer wanted to that as well, but officials from the NFL weren't so keen on letting him.
Plummer relented Wednesday, agreeing to adhere to the league's dress code and remove a sticker from his helmet that honored Tillman, who was killed in the war in Afghanistan after quitting football to join the Army.
"When it comes to honoring Pat, he's bigger than a sticker on my helmet," Plummer said. "I don't like the fact I can't, but I understand what the league wants to accomplish with its rules and regulations."
To soften the blow, the NFL said it would not fine Plummer for wearing the sticker Sunday in violation of league rules. Also, the league agreed to let Plummer tape public-service announcements honoring Tillman and play them in stadiums nationwide on the weekend after Veteran's Day.
"We, too, want to continue to keep Pat Tillman's legacy alive, but ... we have rules regarding personal messages on uniforms that we needed to apply consistently," the NFL said in a statement.
Tillman, a former teammate of Plummer's at Arizona State and with the Arizona Cardinals, quit the league in 2002 to join the Army Rangers. He died in combat in April.
To honor the former safety, all NFL players wore the No. 40 decal on their helmets during the second week of the season. The Cardinals will wear the decal all season.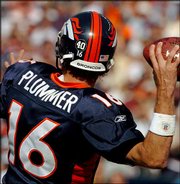 Plummer wanted to keep his own tribute going past the second week. Warned of possible fines by the NFL, Plummer backed down for the next two games. But against the Panthers last Sunday, the sticker reappeared.
At that time, Plummer said giving up the fight just didn't feel right, and he agreed to accept whatever fine was levied and urged fans to donate to the Pat Tillman Foundation.
Copyright 2018 The Associated Press. All rights reserved. This material may not be published, broadcast, rewritten or redistributed. We strive to uphold our values for every story published.