Baghdad, Iraq — A suicide attack and roadside bombs killed six American soldiers Wednesday, and Iraq's prime minister warned residents of the insurgent bastion of Fallujah to hand over terror mastermind Abu Musab al-Zarqawi or face attack.
Al-Zarqawi's Tawhid and Jihad group has claimed responsibility for beheading several foreign hostages and for car bombings throughout the country. A videotape posted Wednesday on an Islamic Web site showed militants linked to al-Zarqawi beheading two Iraqis the terror group accused as spies.
"If they do not turn in al-Zarqawi and his group, we will carry out operations in Fallujah," Prime Minister Ayad Allawi told a meeting of the 100-member interim National Council. "Fallujah of course is an honest city, but it has been manipulated by a deviant bunch that wants to harm Iraq."
The attacks on U.S. forces, at a time when the Americans are applying pressure on insurgent strongholds in the Sunni heartland, occurred in the run-up to the Islamic holy month of Ramadan, which Iraqi television said would begin here Friday.
Some extremists believe they earn a special place in paradise if they die in a jihad, or holy war, during Ramadan. The monthlong holiday of fasting celebrates the time when Muslims believe God revealed their holy book, the Quran, to the Prophet Muhammad.
Wednesday's suicide attack came when a driver plowed into a U.S. convoy and blew up his car in the northern city of Mosul, killing two American soldiers and wounding five, the military said. Four other soldiers were killed in roadside bombings in the Baghdad area -- three late Tuesday and one early Wednesday, the command said.
Last year, the advent of Ramadan was marked by a surge in insurgent attacks. To prevent a repeat, U.S. troops have stepped up offensive operations in Sunni Muslim strongholds to the north and west of Baghdad.
More than 1,000 U.S. and Iraqi troops launched two simultaneous raids Wednesday around Baqouba, 35 miles northeast of Baghdad, to clear the area of insurgents.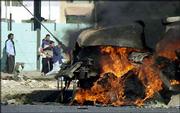 "Basically, it's a pre-Ramadan operation just to clear up some of the area around Baqouba," said Capt. Marshall Jackson, spokesman for the 3rd Brigade, 1st Infantry Division.
Elsewhere, U.S. troops sealed off key streets and searched buildings in the insurgent stronghold of Ramadi, 70 miles west of Baghdad, after days of clashes, residents reported. The U.S. command had no comment.
On Tuesday, Iraqi government soldiers backed by U.S. Marine and Army units raided seven mosques in Ramadi, detaining four people and seizing bomb-making materials and pro-insurgent literature, the military said.
Copyright 2018 The Associated Press. All rights reserved. This material may not be published, broadcast, rewritten or redistributed. We strive to uphold our values for every story published.