New York — Mariano Rivera showed up in time to save the New York Yankees, putting his grief aside just long enough to do what he does best.
Hours after jetting back from a funeral for relatives in Panama, New York's standout closer stopped the surging Boston Red Sox, who had cut an eight-run deficit to one.
Rivera got Kevin Millar to pop out to strand the tying run at third base in the eighth inning, then finished out a thrilling 10-7 win for the Yankees in Tuesday night's opener of the AL championship series.
"It was tough, leaving my family there," the soft-spoken Rivera said. "My fans and my teammates helped me out big time. ... That was something special."
Hideki Matsui tied an ALCS record with five RBIs, including four off Curt Schilling, who allowed six runs in three innings and wasn't sure whether his ailing ankle would keep him out of the rest of the series.
On a night that generated the kind of excitement expected from these great rivals, Mike Mussina was perfect through six innings before Mark Bellhorn doubled on a drive that hit the left-field wall on a hop with one out in the seventh. Bernie Williams drove in three runs, including a two-run double in the eighth that gave Rivera breathing room.
"It took a lot for him to go out there tonight," Yankees captain Derek Jeter said of Rivera. "He's the most mentally tough person I've ever played with."
For much of the night it seemed like a laugher, with the Yankees ahead 6-0 by the third and 8-0 in the sixth.
"It was like it was too good to be true," New York manager Joe Torre said.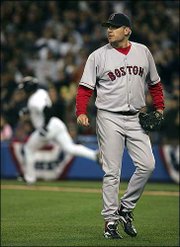 But after Bellhorn's hit on Mussina's 86th pitch, the stubbly faced pitcher's huge curveball quickly became hittable.
Millar hit a two-run double with two outs and scored on a single by Trot Nixon. Tanyon Sturtze relieved, and Jason Varitek hit a two-run homer on his third pitch, pulling the Red Sox to 8-5.
David Ortiz made it 8-7 with a two-run triple in the eighth off Tom Gordon, who would have been the Yankees' closer had Rivera not returned. That's when the crowd got up to welcome Rivera, perhaps the biggest factor in New York's six AL pennants and four World Series titles since 1996.
"Turns out, we really needed him," Mussina said. "I'm sure glad he came back. I know it was tough for him. I know it's been an emotional few days."
Rivera had returned to his native country Sunday after two relatives were electrocuted in the swimming pool of his home, and arrived back at the ballpark in the second inning after a private plane arranged by the Yankees took him to Teterboro Airport in New Jersey.
"My teammates needed me there," Rivera said. "When I went to the bullpen in the fifth inning, I was ready."
Given a huge ovation by the sellout crowd of 56,135, he fell behind 2-1 to Millar, who popped out on the next pitch.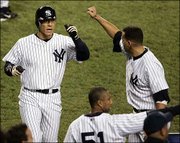 "What he did tonight was phenomenal with all the tragedy he's been through," Millar said.
Williams doubled in the bottom half off Mike Timlin, a ball that soared over Manny Ramirez in left.
Varitek and Orlando Cabrera made the ninth interesting, too, singling with one out. Bill Mueller, whose two-run homer off Rivera beat the Yankees on July 24 at Fenway Park, hit a comebacker that Rivera turned into a game-ending double play.
Pedro Martinez pitches for the Red Sox on Wednesday night against Jon Lieber. Martinez is sure to be reminded by fans of his remark last month that the Yankees are his "daddy."
"Each game is going to be an emotional roller-coaster," Torre said.
Mussina ended New York's streak of losses in four straight playoff openers, striking out eight and allowing four runs and four hits in 6 2/3 innings. He struck out the top of the order -- all looking -- in the fourth inning, part of a streak of five straight strikeouts, tying the LCS record.
"You start thinking about how this guy might be going through something special here," Williams said.
Copyright 2018 The Associated Press. All rights reserved. This material may not be published, broadcast, rewritten or redistributed. We strive to uphold our values for every story published.