Overbrook — Fall is apple picking time at Fieldstone Orchard and B & B.
That's what brought the Fisher and Stark families last week to Ken and Nancy Krause's 180-acre property, located near Overbrook, about 30 miles southwest of Lawrence.
The two families, friends from Providence Community Church in Olathe, came to the orchard to pick bag after bag of ripe apples, then take them home to make applesauce, apple pies or simply eat the fruit as is.
But there was another reason the group showed up, too: family entertainment.
"It's to make a memory with our boys," Bryan Fisher said.
He and his wife, Jessica, traveled to the orchard in Osage County from Olathe with their four boys: Nile, 7; Jordan, 3; Calvary, 2; and Judah, 4 months.
They were accompanied by Ken and Christa Stark, of Overland Park, and their three boys: Caleb, 7; Connor, 5; and Joshua, 2.
"I think it's pretty nice here. The Fishers told us about it, and we thought it would be a good family outing. Picking apples is a family tradition," Ken Stark said.
As the group -- with the boys perched atop the shoulders of their dads -- picked Empire apples, Christa Stark considered what they'd do with their haul.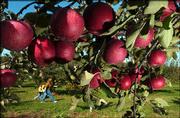 "We'll make pies and apple bread, candy-apple pie and just eat them fresh," she said.
The two families weren't the only guests Friday at Fieldstone. A group of 65 kindergartners and 20 adults from Topeka's McEachron Elementary School were touring the orchard as part of a field trip.
"I love it here. It's a nice, happy place. Ken and Nancy Krause and all their workers make you feel welcome. The apples are delicious, real sweet," said Evelyn Rivera, a teacher with the group.
"I've never tasted so many different kinds."
If you like it, pick it
Indeed, if it's apples you crave, Fieldstone is a good place to start looking. The Krauses grow more than 50 varieties of apples.
Fieldstone Orchard and B & B, 7049 E. 149th St., is near Overbrook, about 30 miles southwest of Lawrence.Guests are welcome to pick apples -- there are more than 50 varieties -- for $10 per 20-pound bag.Apple season runs through November. The orchard is open from 9 a.m. to 6 p.m. Tuesday through Saturday and from 1 p.m. to 6 p.m. Sunday.The telephone number is (785) 665-7643. For more information and a map to the orchard, go to www.fieldstonee.com.
Apple recipes
"Our business is good the minute the Galas come on in late August, and it stays good until we run out of apples (in November)," Ken Krause said.
Customers can pick their own apples, or buy them pre-bagged and refrigerated from the orchard's country store.
"The shelf (in the store) is always full. Right now, customers can pick 10 to 12 different kinds of apples in the orchard. We have a lot of trees," he said.
Everyone who visits the orchard receives a sheet of paper with a diagram on one side showing where each variety of apple tree is located, and which ones are bearing ripe fruit. On the sheet's other side, the varieties are listed along with a description of each type and the date they're ready to pick.
If you pick your own fruit, the cost is $10 for one bag, which contains about 20 pounds of apples. Apples purchased at the country store cost 70 cents per pound.
What kind of comments do the Krauses get from their customers?
"You try an apple, and you tell me," Ken Krause said.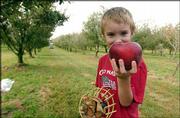 Judging from the crowds of people who come to Fieldstone from Topeka, Lawrence and the Kansas City area, the verdict is positive.
The apples the Krauses grow are pretty on the outside, crisp on the inside. Some kinds have snow-white flesh, while others have a buttery color.
It's fun to go from tree to tree, comparing how the varieties differ in taste and appearance -- an apple lover's delight.
"We encourage people to try the apples (in the orchard) to see if you like it. If you like it, pick it," Krause said.
"Lots of people come back, and they send their friends to us. This is family entertainment -- that's what they say."
Apple slushes
Later in the day, the Topeka kindergartners left the orchard using their shirt fronts as pouches to carry apples.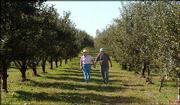 So far this year, Ken Krause said about 700 students have visited Fieldstone. He expected another 300 to come before apple season ends.
Tom Rak, a parent with the Topeka group, seemed impressed by the whole operation.
"It's amazing how many apples there are here, and how beautiful it is," he said, taking a gulp of an apple-slush drink that Krause makes and sells at his country store, along with apple cider made from the orchard's own fruit.
"Yeah, that's pretty tasty. And it's good in the warm weather, too."
The apple slush is a treat that's not to be missed on a visit to Fieldstone. If you could condense and chill all the apples in the world, then put it in a cup, that's what it would taste like.
This week, "Home & Away" features Fieldstone Orchard and B & B. Watch the tour of the bed and breakfast, petting zoo and orchards at 9:30 a.m. and 7 p.m. today, 10 a.m. and 7:30 p.m. Thursday, 10:30 a.m. and 8:30 p.m. Friday, and 10 a.m. Saturday.
Ken Krause is proud of his apples, and rightly so.
"Did you eat an apple up there from the tree? The taste is so different from the grocery store, (where) they taste like wood, and they're green," he said.
Meanwhile, the Fisher and Stark families have emerged from the orchard, bearing bags stuffed with apples. Each family has picked 60 pounds of fruit. Ken Krause chatted with them while they loaded everything up for the trip home.
"When people are leaving, I always say, 'Did you have a good time?' That's important to me," he said.
Copyright 2018 The Lawrence Journal-World. All rights reserved. This material may not be published, broadcast, rewritten or redistributed. We strive to uphold our values for every story published.