Lloyd Lam had never heard of the Maple Leaf Festival until he and his wife, Joy, moved to Baldwin more than four years ago.
"I had been to Baldwin maybe twice on business," said Lam, who works for Sprint.
But his first year living in Baldwin, Lam helped organize the festival parade. Now, he continues to organize the parade with assistance from his wife.
"It's a lot of work, but it's great," he said. "And the fun part I have is putting together the order."
The parade for the 47th annual Maple Leaf Festival starts at 11 a.m. Saturday in Baldwin.
The festival opens Friday with a carnival, a 7 p.m. performance of the musical "The Ballad of Black Jack" and an open jam session at the country music tent.
Festival chairwoman Jennifer Hayes said people could expect the usual from the festival, including about 350 craft booths, lots of food, two music tents and the carnival.
"It's a lot of fun and the festival has a lot of good traditions," Hayes said.
Anywhere from 20,000 to 30,000 people attended the large festival in the small town last year. Unless the weather is awful this weekend, Hayes said Maple Leaf Festival committee members expected throngs.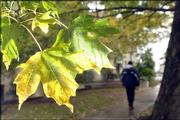 Hayes said she was hoping for a strong turnout because the bulk of the profit from the festival is donated to charities and nonprofit organizations in Baldwin and Douglas County. Some of the money is put toward college scholarships and sending high school students to Boys State and Girls State summer programs, which teach high school students about government.
On Saturday, in addition to the parade and the arts and craft show, there will be a children's parade at 10:45 a.m., hourly train rides at the Midland Railway beginning at 11 a.m. and a quilt show from 9 a.m. to 5 p.m. at the Baldwin Elementary School Primary Center.
The festival continues Sunday.
Copyright 2018 The Lawrence Journal-World. All rights reserved. This material may not be published, broadcast, rewritten or redistributed. We strive to uphold our values for every story published.