The four seniors on the Seabury Academy soccer squad suffered multiple disappointments on Senior Night.
Aside from the cold, rainy weather at the Youth Sports Inc. fields, a 6-2 defeat Monday to Kansas City Sumner stood out the most. The Seahawks fell to 4-8 with just two regular-season games remaining.
"I think we let the conditions get to us a little bit defensively," Seabury coach Bryan Clyne said. "We played good defense early, but (the weather) just got in their heads."
Just ninety seconds into the game, Sumner began its offensive outburst with a goal by sophomore Anabel Perez.
Seabury tied the game 10 minutes later when sophomore Aaron Chung banged a shot in off the left post.
After that goal, Seabury mistakes helped Sumner. Senior Steven King scored an own goal for the Seahawks, and minutes later junior goalkeeper Paul Bireta allowed a shot that practically was in his hands to ricochet off his gloves and into the net.
In the second half, Sumner locked up the victory in flashy fashion. Senior Francisco Amaya scored the Sabres' fourth goal on a bicycle kick.
Seabury senior Yoo Sung Cha added a late goal for the Seahawks after a string of wasted offensive opportunities. Their best chance was on a free kick in front of the goal after Sumner's Korbin Anglin was given a yellow card.
Even though his seniors felt defeat in their final home game, Clyne said the foursome left satisfied because of improvements in the program's second season. Seabury's four graduating seniors are King, Cha, Ben Levy and Gary Gardner.
"We definitely made some strides since our last senior night," Clyne said. "These guys, they looked at it as a positive. It was a sore spot for the rest of us, but it didn't bother them."
Seabury will travel Thursday to Topeka Heritage Christian.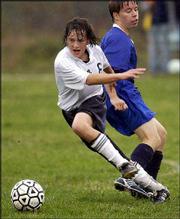 Copyright 2018 The Lawrence Journal-World. All rights reserved. This material may not be published, broadcast, rewritten or redistributed. We strive to uphold our values for every story published.