It's no surprise that New England and Philadelphia are unbeaten after a quarter of the NFL season, with the Patriots holding a nice new NFL record with 19 straight victories, counting playoffs.
It's probably a bit surprising that the New York Jets are 4-0, although they were pegged to contend for a playoff spot by some.
But consider the Giants, Steelers, Lions and Chargers, a combined 19-45 a year ago and now 14-5. Add Atlanta, which lost its first game (to Detroit) Sunday, and it's 24-56 to 18-6.
That's life in the modern NFL.
One offshoot is San Diego, holding the Giants' first pick in next year's draft via the Eli Manning deal, is unlikely to have two top-five choices. The Chargers are at 3-2, and the Giants are 4-1 and neither looks like it's about to collapse.
"When we play the way we're capable of playing, we can compete," Chargers coach Marty Schottenheimer said after Sunday's 34-21 victory over Jacksonville.
That could be a litany for the modern NFL, where injuries and luck make every one but a handful of teams at the top (New England, Philadelphia, Indianapolis) and bottom (Miami, Buffalo, Arizona and San Francisco) just about even. It's been the same for the last half-dozen seasons or more and it doesn't change.
Some first-quarter snapshots:
Rookie QBs: While Manning sits behind Kurt Warner in New York and Philip Rivers behind Drew Brees in San Diego, Ben Roethlisberger has been a big hit in Pittsburgh.
He's 3-0 as a starter since replacing the injured Tommy Maddox as the Steelers, 6-10 a year ago, lead the AFC North. He is being asked to play risk-free on a team whose philosophical approach always has been running and defense, and he has been good at it. He was 16-of-21 for 231 yards and a touchdown in a victory over Cleveland on Sunday. His passer rating is a very good 91.3, 14th in the league and only a half-point lower than Warner's.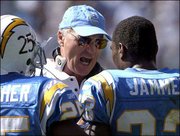 The next rookie to start could be the Bills' J.P. Losman, taken 22nd overall behind Manning (1), Rivers (4) and Roethlisberger (11). He is currently working his way back into shape after breaking his leg, but given Buffalo's 0-4 start, he could replace Drew Bledsoe some time in the second half of the season.
New York/New York: The Giants are a surprise to those who saw them in preseason and figured them for five wins at best. And many thought they would revolt against ultra-disciplinarian Tom Coughlin and his picky rules.
But remember that entering the 2003 season, the Giants were considered a Super Bowl contender, and they still have the same skill players -- except Warner at quarterback is an upgrade over Kerry Collins. Last year, they collapsed under an offensive line that was the NFL's worst. This year, it has improved to acceptable with help from a couple of journeymen and rookie guard Chris Snee, Coughlin's son-in-law.
The most obvious standout is Tiki Barber, who leads the league in rushing with 577 yards and total yards with 817. He hasn't fumbled after dropping the ball 35 times between 2000-03. But also credit Jeremy Shockey, who groused early about having to block too much in Coughlin's new offense, but is now second on the team with 22 receptions and has TD catches in each of the last two games.
The Jets have the distinction of being the worst unbeaten team in the league, but emphasize "unbeaten" rather than "worst."
Yes, they've struggled in all four wins, two over the winless Dolphins and Bills. And they allowed Buffalo, the league's best winless team, to score two late touchdowns Sunday before winning 16-14 on Doug Brien's field goal with 58 seconds left.
But a win is a win, and the Jets can bank them for later in the season. If they're unlikely to win the AFC East over the Patriots, they're a solid wild-card contender.
Copyright 2018 The Associated Press. All rights reserved. This material may not be published, broadcast, rewritten or redistributed. We strive to uphold our values for every story published.