Lawrence Police now have electronic links that allow them to check license plates without a dispatcher's assistance no matter where, no matter when.
The same mobile data system allows Douglas County sheriff's deputies to have their locations monitored without ever saying a word or making radio contact.
And Lawrence-Douglas County Fire & Medical personnel can pinpoint the location of an emergency, all by reading the plot on a digital map that also shows where other trucks are posted, how many fire hydrants are available and the fastest route for getting there.
All this digital wizardry now is available to area emergency workers because the Douglas County Sheriff's Department secured a $384,000 federal grant that helped buy the new mobile data system.
"Taxpayers are reaping tremendous benefits from this," Sheriff Rick Trapp told Douglas County commissioners during a demonstration Monday. "This is the greatest thing since two-way radios. It's like nothing else."
The operating system is used by the departments to speed response times and otherwise boost the efficiency of emergency services throughout the county, Trapp told commissioners visiting the county's Emergency Operations Center at the Judicial & Law Enforcement Center, 111 E. 11th St.
The system puts computers and transmission equipment in Lawrence police cars, sheriff's cruisers and Fire & Medical trucks and ambulances. Together, they connect first responders with emergency dispatchers, forming an emergency network that provides detailed information on incidents large and small.
"Efficiency is a factor, and it's very important," said Ron Olin, Lawrence police chief. "If we get to a place two minutes faster, and it's a heart attack, it's entirely possible that it can make the difference between life and death.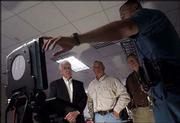 "If we get to a place -- and a 911 call was made promptly and correctly to dispatch, and we were dispatched appropriately -- we might interfere with a burglary or a crime in progress. Those things are very important, and we have to look for ways to make us more efficient."
The system, up and running since June, currently serves only the three departments. The Eudora Police Department plans to have its patrol officers connected by the end of the year.
The sheriff's department launched the effort in 2002, by securing a $384,000 grant from the U.S. Department of Justice. The county pitched in $124,000 from fees collected from phone customers for 911 service, and the county once again was at the forefront of emergency communications.
The next step could be on the way.
Olin said his department was looking into using wireless technology to connect into the mobile data system. Detectives and officers working on foot and bicycle patrols one day could use PDAs to receive information from dispatchers.
"These kinds of advances are just as important as the pager and the cell phone," Olin said.
Copyright 2018 The Lawrence Journal-World. All rights reserved. This material may not be published, broadcast, rewritten or redistributed. We strive to uphold our values for every story published.