This year Brett Favre, the quarterback for the Green Bay Packers, will play on the same team as Tiki Barber, running back for the New York Giants. No, this is not a prediction for the NFL Pro Bowl in February. Favre and Barber play together every Sunday for Giddens, Marshall Rake's fantasy football team, which has become an increasingly popular pastime for young, male sports fans.
"A lot of kids do it," Rake said. "You hear people talk about it at school."
Rake, a junior at Free State High School, is one of an estimated 15 million people who participate in one or more fantasy sports, according to a Fantasy Sports Trade Assn. study conducted by a University of Mississippi professor.
Rake became hooked shortly after signing up for a fantasy football league on Yahoo! Sports, which he heard about from his cousin.
"I've always been a big football fan," Rake said. "I got into it right away, especially after the draft. That's the most exciting part."
Although every Web site and every sport has its own system, the draft is a staple of all fantasy sports. Each fantasy manager takes turns picking real players from the professional leagues. The manager then earns points based on how the real players performed in real games. Managers compete against other managers to see who can earn the most points.
Rake, who participates in fantasy football and fantasy college basketball, plays for fun in public leagues against strangers. Paul VanderVelde competes in a private league for a small cash prize.
"Each of us threw in $5," said VanderVelde, Free State senior. "I think the winner gets $40 or something."
VanderVelde said the money made both playing in the league and watching football more exciting. When money is on the line, loyalties go out the window. VanderVelde, a Chiefs fan, said he usually roots for Donovan McNabb and LaDainian Tomlinson, his fantasy players, before any real NFL team.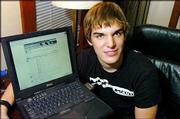 Though VanderVelde put down a side bet, neither he nor Rake paid an entry fee for their leagues. According to the Fantasy Sports Trade Assn. study, which is the first and only study of the industry, the average player pays $154.
"I wouldn't put money into it," Rake said. "It's not worth paying for."
Ironically, a conspicuous absence from the sports geek demographic is the real athlete. Quarterback Brain Heere, Lawrence High School junior, said he and the rest of the team simply don't have time to play fantasy football.
"All we do when we get home is do homework and eat," Heere said.
While Heere and the rest of the Chesty Lions continue the quest for a state title on Friday nights, Favre and Moss will battle for Team Giddens every Sunday afternoon.
Copyright 2018 The Lawrence Journal-World. All rights reserved. This material may not be published, broadcast, rewritten or redistributed. We strive to uphold our values for every story published.