Atlanta — They jumped on each other at the pitcher's mound, then headed off to the clubhouse to pop some champagne.
It was all new to the Houston Astros, but they seemed to know what they were doing.
In their 43rd year of existence and eighth trip to the playoffs, the Astros finally won a postseason series. After such a long, arduous journey, the final step wasn't tough at all: a 12-3 rout of the Atlanta Braves on Monday night in the deciding Game 5 of their first-round NL playoff series.
Carlos Beltran hit two more homers and drove in five runs, while original Killer B's Craig Biggio and Jeff Bagwell chipped in during a five-run seventh inning that buried the Braves.
"It's nice to move on," Biggio said. "Finally."
The clubhouse celebration was rather muted for a team that has endured so much postseason disappointment. The Astros enjoyed soaking their owner, Drayton McLane, but didn't look to be satisfied with winning one playoff series.
Next up for the wild-card Astros is a matchup against Central Division rival St. Louis in the NL championship series starting Wednesday night at Busch Stadium.
"The past is the past," Beltran said. "We win. We move on."
The Astros snapped an 0-for-7 record of futility in the playoffs, beating their longtime nemesis. The Braves eliminated Houston in 1997, '99 and '01, but they couldn't escape their own postseason demons this time.
"This is what I came here for," said Roger Clemens, who put off retirement to pitch for his hometown club and is now four wins away from getting back to the World Series.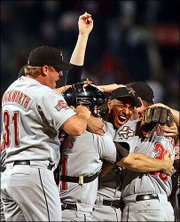 The Astros matched the Brooklyn Dodgers for most series losses before getting their first win. The Bums won on their eighth try in the 1955 World Series.
After squandering a three-run lead at home in Game 4, the Astros has this series right where they wanted it.
Atlanta has lost Game 5 of the division series three years in a row -- all at Turner Field. The second-largest crowd in franchise history, 54,068, saw another familiar ending.
Beltran homered four times in the series, breaking the Houston record for a postseason series. In a poignant note, the record was formerly held by Ken Caminiti, who hit three in an opening-round loss to the Braves in 1999.
Caminiti, who spent 10 seasons with the Astros, died Sunday of an apparent heart attack at age 41.
The news hit Caminiti's former teammates -- Biggio and Bagwell -- especially hard.
"I this I felt his spirit out there," Biggio said.
"I know he's smiling somewhere," Bagwell added.
The Braves, who proudly display 13 straight division titles, still have only one World Series to show for it. It marked the fifth straight year that the Braves' season ended at the Ted.
This one was especially dismal, equaling the worst postseason loss in franchise history.
John Smoltz hopes it won't diminish the perception of a team that was picked to finish no better than third in the NL East.
"For one night, it's a very terrible feeling," the Braves closer said. "When you break down this team, it was a really remarkable year."
Houston jumped ahead 3-0 on Jaret Wright, with Beltran homering in the third. The Braves had the big crowd roaring in the fifth when Rafael Furcal and Johnny Estrada hit solo homers, but Beltran hit a drive off Wright that just cleared the right-field wall leading off the sixth.
The Braves were done. Unlike Los Angeles a night earlier, they didn't bother coming out when it was over to shake the victors' hands.
Roy Oswalt, pitching on three days' rest for the second time this season, made it through five innings. He threw 111 pitches while the Braves stranded seven runners.
Houston poured it on in the seventh, scoring five runs with two outs. Chris Reitsma gave up RBI singles to Biggio and Beltran before Bagwell launched a mammoth two-run homer into the left-field seats. Jeff Kent added an RBI single off Tom Martin for a 9-2 lead.
Bagwell and Biggio, who took much of the blame for Houston's past futility, silenced their critics. Biggio was 8-of-20 (.400) with a homer and four RBIs in the series. Bagwell was 7-of-22 (.318) with two homers and five RBIs.
But no one was better than the newest B. Beltran was 10-of-22 (.455) with eight RBIs,.
"When I played in Kansas City, a lot of people didn't know who I was," he said. "But as soon as I was traded to Houston, people started realizing who I was."
Copyright 2018 The Associated Press. All rights reserved. This material may not be published, broadcast, rewritten or redistributed. We strive to uphold our values for every story published.